Hawkins, Inc. (HWKN) Announces Quarterly Earnings Results
Hawkins, Inc. (NASDAQ:HWKN) issued its earnings results on Wednesday. The specialty chemicals company reported $0.49 earnings per share (EPS) for the quarter, Bloomberg Earnings reports. The business had revenue of $125.40 million for the quarter. Hawkins had a net margin of 3.84% and a return on equity of 8.55%.
Hawkins (NASDAQ:HWKN) traded down $0.25 during trading on Friday, hitting $36.65. 30,669 shares of the company's stock were exchanged, compared to its average volume of 19,811. The stock has a market capitalization of $396.67 million, a P/E ratio of 20.90 and a beta of 0.73.
The firm also recently disclosed a semiannual dividend, which was paid on Friday, October 6th. Shareholders of record on Friday, September 22nd were paid a $0.44 dividend. This represents a dividend yield of 2.16%. This is a positive change from Hawkins's previous semiannual dividend of $0.42. The ex-dividend date was Thursday, September 21st. Hawkins's dividend payout ratio (DPR) is 49.44%.
COPYRIGHT VIOLATION WARNING: This news story was first published by American Banking News and is owned by of American Banking News. If you are accessing this news story on another website, it was illegally copied and reposted in violation of U.S. & international copyright and trademark legislation. The original version of this news story can be accessed at https://www.americanbankingnews.com/2017/11/03/hawkins-inc-hwkn-announces-quarterly-earnings-results.html.
In related news, Director Mary J. Schumacher purchased 1,400 shares of the firm's stock in a transaction that occurred on Monday, August 28th. The shares were acquired at an average price of $35.80 per share, for a total transaction of $50,120.00. Following the purchase, the director now owns 6,616 shares in the company, valued at $236,852.80. The purchase was disclosed in a filing with the Securities & Exchange Commission, which is accessible through the SEC website. Also, VP Richard G. Erstad sold 1,200 shares of the company's stock in a transaction dated Friday, August 11th. The shares were sold at an average price of $40.59, for a total transaction of $48,708.00. Following the completion of the transaction, the vice president now owns 9,300 shares in the company, valued at approximately $377,487. The disclosure for this sale can be found here. 3.70% of the stock is currently owned by corporate insiders.
Several brokerages recently issued reports on HWKN. BidaskClub lowered shares of Hawkins from a "sell" rating to a "strong sell" rating in a research note on Thursday, July 27th. TheStreet lowered shares of Hawkins from a "b" rating to a "c+" rating in a research note on Tuesday, August 15th.
Hawkins Company Profile
Hawkins, Inc distributes, blends and manufactures chemicals and specialty ingredients for its customers in a range of industries. The Company conducts its business in three segments: Industrial, Water Treatment, and Health and Nutrition. Its Industrial segment is engaged in providing industrial chemicals, products and services to various industries, such as agriculture, chemical processing, electronics and energy.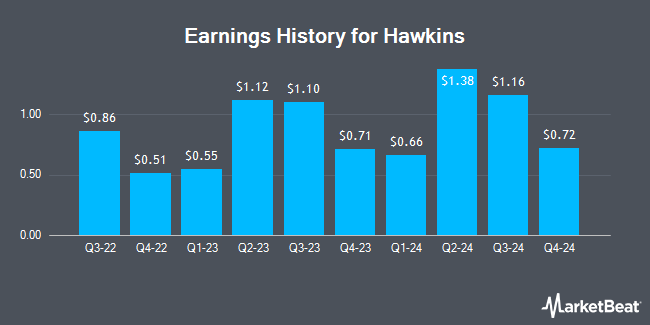 Receive News & Ratings for Hawkins Inc. Daily - Enter your email address below to receive a concise daily summary of the latest news and analysts' ratings for Hawkins Inc. and related companies with MarketBeat.com's FREE daily email newsletter.