Kennedy-Wilson Holdings Inc. (KW) Raises Dividend to $0.19 Per Share
Kennedy-Wilson Holdings Inc. (NYSE:KW) announced a quarterly dividend on Friday, November 3rd, Wall Street Journal reports. Stockholders of record on Friday, December 29th will be paid a dividend of 0.19 per share by the financial services provider on Thursday, January 4th. This represents a $0.76 dividend on an annualized basis and a dividend yield of 3.89%. The ex-dividend date of this dividend is Thursday, December 28th. This is a positive change from Kennedy-Wilson Holdings's previous quarterly dividend of $0.17.
Kennedy-Wilson Holdings has increased its dividend by an average of 37.0% per year over the last three years and has raised its dividend annually for the last 6 consecutive years.
Shares of Kennedy-Wilson Holdings (KW) traded up $0.10 during trading on Friday, hitting $19.55. The stock had a trading volume of 2,160,278 shares, compared to its average volume of 1,780,657. The company has a market cap of $2.23 billion, a P/E ratio of 46.55 and a beta of 1.40.
Kennedy-Wilson Holdings (NYSE:KW) last issued its quarterly earnings results on Thursday, November 2nd. The financial services provider reported ($0.08) EPS for the quarter, beating analysts' consensus estimates of ($0.23) by $0.15. The company had revenue of $277.20 million for the quarter, compared to analyst estimates of $177.89 million. Kennedy-Wilson Holdings had a return on equity of 2.05% and a net margin of 1.94%. The company's quarterly revenue was up 59.0% compared to the same quarter last year. During the same period in the previous year, the company posted ($0.03) earnings per share.
TRADEMARK VIOLATION WARNING: This report was first published by American Banking News and is owned by of American Banking News. If you are reading this report on another website, it was illegally stolen and reposted in violation of United States and international trademark and copyright laws. The legal version of this report can be read at https://www.americanbankingnews.com/2017/11/03/kennedy-wilson-holdings-inc-kw-raises-dividend-to-0-19-per-share.html.
Several analysts recently issued reports on the company. Deutsche Bank AG reiterated a "hold" rating and set a $23.00 target price on shares of Kennedy-Wilson Holdings in a report on Monday. BidaskClub lowered Kennedy-Wilson Holdings from a "sell" rating to a "strong sell" rating in a report on Tuesday, August 22nd. Finally, BTIG Research reiterated a "buy" rating and set a $33.00 target price on shares of Kennedy-Wilson Holdings in a report on Tuesday, October 17th. One equities research analyst has rated the stock with a sell rating, two have assigned a hold rating and three have issued a buy rating to the company. The stock presently has a consensus rating of "Hold" and an average target price of $28.33.
Kennedy-Wilson Holdings Company Profile
Kennedy-Wilson Holdings, Inc is a real estate investment company. The Company owns, operates, and invests in real estate both on its own and through its investment management platform. The Company focuses on multifamily and commercial properties located in the Western United States, the United Kingdom, Ireland, Spain, Italy and Japan.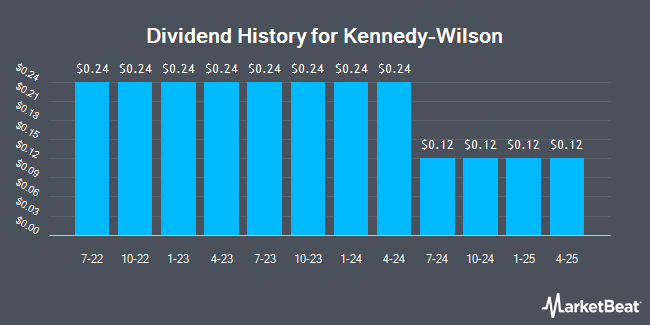 Receive News & Ratings for Kennedy-Wilson Holdings Inc. Daily - Enter your email address below to receive a concise daily summary of the latest news and analysts' ratings for Kennedy-Wilson Holdings Inc. and related companies with MarketBeat.com's FREE daily email newsletter.