Minerals Technologies Inc. (MTX) Issues Q4 Earnings Guidance
Minerals Technologies Inc. (NYSE:MTX) updated its fourth quarter earnings guidance on Friday. The company provided EPS guidance of $1.08 for the period, compared to the Thomson Reuters consensus EPS estimate of $1.11.
MTX has been the topic of a number of recent analyst reports. Zacks Investment Research downgraded shares of Minerals Technologies from a hold rating to a sell rating in a research report on Thursday, August 10th. ValuEngine downgraded shares of Minerals Technologies from a buy rating to a hold rating in a research report on Tuesday, July 25th.
Minerals Technologies (NYSE:MTX) last posted its earnings results on Thursday, November 2nd. The basic materials company reported $1.19 EPS for the quarter, topping analysts' consensus estimates of $1.17 by $0.02. Minerals Technologies had a net margin of 9.62% and a return on equity of 15.04%. The business had revenue of $424.40 million for the quarter, compared to analysts' expectations of $404.80 million. During the same period in the previous year, the company posted $1.17 earnings per share. The business's revenue for the quarter was up 6.2% compared to the same quarter last year.
Minerals Technologies declared that its board has approved a share repurchase program on Thursday, September 21st that permits the company to buyback $150.00 million in outstanding shares. This buyback authorization permits the basic materials company to repurchase up to 6.1% of its shares through open market purchases. Shares buyback programs are usually an indication that the company's management believes its stock is undervalued.
In other news, insider Dj Monagle III sold 25,639 shares of the business's stock in a transaction on Tuesday, September 26th. The shares were sold at an average price of $70.03, for a total transaction of $1,795,499.17. Following the transaction, the insider now directly owns 39,579 shares of the company's stock, valued at $2,771,717.37. The transaction was disclosed in a filing with the SEC, which is available at the SEC website. Insiders own 2.20% of the company's stock.
COPYRIGHT VIOLATION WARNING: "Minerals Technologies Inc. (MTX) Issues Q4 Earnings Guidance" was first published by American Banking News and is owned by of American Banking News. If you are reading this piece on another domain, it was illegally copied and republished in violation of international trademark and copyright legislation. The legal version of this piece can be viewed at https://www.americanbankingnews.com/2017/11/03/minerals-technologies-inc-mtx-issues-q4-earnings-guidance.html.
Minerals Technologies Company Profile
Minerals Technologies Inc is a resource- and technology-based company that develops, produces and markets a range of specialty mineral, mineral-based and synthetic mineral products and related systems and services around the world. It operates through four segments. The Specialty Minerals segment produces and sells the synthetic mineral product precipitated calcium carbonate (PCC), mines mineral ores, and processes and sells natural mineral products, primarily limestone and talc.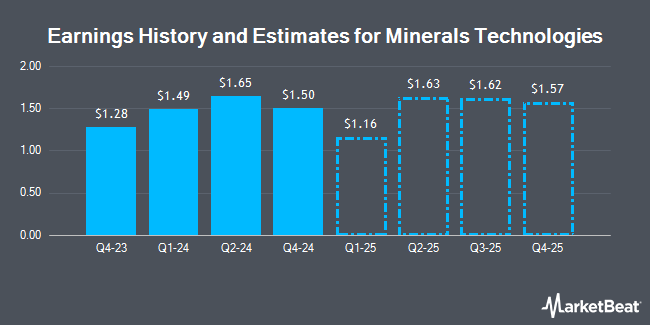 Receive News & Ratings for Minerals Technologies Inc. Daily - Enter your email address below to receive a concise daily summary of the latest news and analysts' ratings for Minerals Technologies Inc. and related companies with MarketBeat.com's FREE daily email newsletter.