Obsidian Energy (OBE) to Release Quarterly Earnings on Friday
Obsidian Energy (NYSE:OBE) (TSE:PWT) is scheduled to be issuing its quarterly earnings data before the market opens on Friday, November 10th. Analysts expect the company to announce earnings of ($0.05) per share for the quarter.
ILLEGAL ACTIVITY WARNING: This article was first published by American Banking News and is the sole property of of American Banking News. If you are viewing this article on another site, it was illegally copied and reposted in violation of U.S. & international copyright & trademark laws. The original version of this article can be viewed at https://www.americanbankingnews.com/2017/11/03/obsidian-energy-obe-to-release-quarterly-earnings-on-friday.html.
A number of equities research analysts have commented on OBE shares. Canaccord Genuity set a $2.00 price objective on Obsidian Energy and gave the company a "hold" rating in a research note on Wednesday, August 9th. Zacks Investment Research cut Obsidian Energy from a "hold" rating to a "sell" rating in a research note on Thursday, October 12th. ValuEngine cut Obsidian Energy from a "sell" rating to a "strong sell" rating in a research note on Friday, September 1st. Finally, CIBC started coverage on Obsidian Energy in a research note on Wednesday, October 18th. They issued a "neutral" rating for the company. Two analysts have rated the stock with a sell rating, seven have issued a hold rating and one has issued a buy rating to the stock. The stock has a consensus rating of "Hold" and a consensus price target of $2.37.
About Obsidian Energy
Obsidian Energy Ltd, formerly Penn West Petroleum Ltd, is a Canada-based conventional oil and natural gas producer and development and production company. The Company operates a portfolio of opportunities with an oil position in the Cardium, Viking and Peace River areas of Alberta. The Alberta Viking area offers a mix of light-oil and gas with high-netback shorter cycle wells to complement longer cycle activities in the Cardium.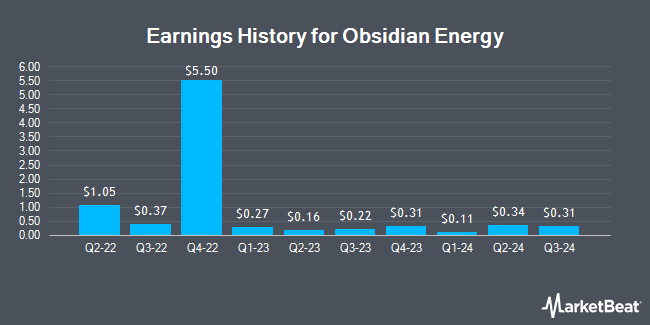 Receive News & Ratings for Obsidian Energy Daily - Enter your email address below to receive a concise daily summary of the latest news and analysts' ratings for Obsidian Energy and related companies with MarketBeat.com's FREE daily email newsletter.