T2 Biosystems, Inc. (TTOO) Issues Quarterly Earnings Results, Beats Expectations By $0.04 EPS
T2 Biosystems, Inc. (NASDAQ:TTOO) released its quarterly earnings results on Thursday. The medical equipment provider reported ($0.45) EPS for the quarter, beating the Thomson Reuters' consensus estimate of ($0.49) by $0.04, Bloomberg Earnings reports. The company had revenue of $1.11 million for the quarter, compared to analyst estimates of $1.10 million. T2 Biosystems had a negative net margin of 1,497.70% and a negative return on equity of 226.45%. The company's quarterly revenue was up 2.8% on a year-over-year basis.
Shares of T2 Biosystems (TTOO) traded up $0.37 during mid-day trading on Friday, reaching $4.19. 389,207 shares of the company's stock were exchanged, compared to its average volume of 181,249.
Several research firms recently commented on TTOO. HC Wainwright restated a "buy" rating and set a $8.00 price target on shares of T2 Biosystems in a research report on Friday. Zacks Investment Research lowered shares of T2 Biosystems from a "hold" rating to a "sell" rating in a research report on Wednesday, August 9th. Canaccord Genuity reiterated a "buy" rating and issued a $6.00 target price on shares of T2 Biosystems in a research report on Monday. Finally, ValuEngine upgraded shares of T2 Biosystems from a "strong sell" rating to a "sell" rating in a research report on Wednesday, September 13th. Two investment analysts have rated the stock with a sell rating, three have issued a hold rating and four have issued a buy rating to the company's stock. T2 Biosystems has an average rating of "Hold" and an average target price of $6.57.
TRADEMARK VIOLATION WARNING: This piece of content was first posted by American Banking News and is owned by of American Banking News. If you are accessing this piece of content on another site, it was illegally copied and reposted in violation of U.S. and international trademark and copyright legislation. The correct version of this piece of content can be accessed at https://www.americanbankingnews.com/2017/11/03/t2-biosystems-inc-ttoo-issues-quarterly-earnings-results-beats-expectations-by-0-04-eps.html.
T2 Biosystems Company Profile
T2 Biosystems, Inc is an in vitro diagnostics company engaged in developing a technology platform offering an alternative to diagnostic methodologies. The Company's T2 Magnetic Resonance platform (T2MR) enables detection of pathogens, biomarkers and other abnormalities in a range of unpurified patient sample types, including whole blood, plasma, serum, saliva, sputum and urine, and can detect cellular targets at limits of detection as one colony forming unit per milliliter (CFU/mL).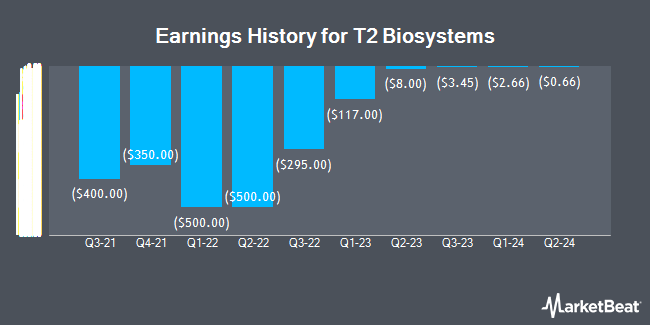 Receive News & Ratings for T2 Biosystems Inc. Daily - Enter your email address below to receive a concise daily summary of the latest news and analysts' ratings for T2 Biosystems Inc. and related companies with MarketBeat.com's FREE daily email newsletter.