TransAlta Renewables Inc (RNW) Price Target Cut to C$15.00
TransAlta Renewables Inc (TSE:RNW) had its price objective lowered by investment analysts at TD Securities from C$15.50 to C$15.00 in a research report issued on Friday. The firm presently has a "hold" rating on the stock. TD Securities' price target suggests a potential upside of 8.07% from the company's current price.
Separately, National Bank Financial reissued a "sector perform under weight" rating on shares of TransAlta Renewables in a research report on Thursday, July 20th. Five equities research analysts have rated the stock with a hold rating, The company currently has a consensus rating of "Hold" and an average price target of C$15.00.
TransAlta Renewables (RNW) traded down C$13.40 during midday trading on Friday, hitting C$13.40. The stock had a trading volume of 574,908 shares,
COPYRIGHT VIOLATION NOTICE: This article was originally published by American Banking News and is the sole property of of American Banking News. If you are viewing this article on another domain, it was stolen and reposted in violation of international copyright and trademark laws. The original version of this article can be accessed at https://www.americanbankingnews.com/2017/11/03/transalta-renewables-inc-rnw-price-target-cut-to-c15-00.html.
TransAlta Renewables Company Profile
TransAlta Renewables Inc is a Canada-based company engaged in developing, owning and operating renewable power generation facilities. The Company owns and operates over 10 hydro facilities and approximately 20 wind farms in Western and Eastern Canada with a total installed capacity of approximately 1,140 megawatts (MW) and holds economic interest in approximately 140 MW Wyoming Wind Farm and approximately 420 MW Australian gas-fired generation assets, as well as over 270 kilometers gas pipeline.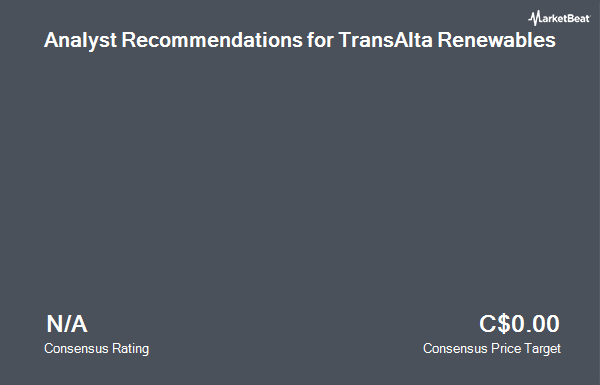 Receive News & Ratings for TransAlta Renewables Inc Daily - Enter your email address below to receive a concise daily summary of the latest news and analysts' ratings for TransAlta Renewables Inc and related companies with MarketBeat.com's FREE daily email newsletter.