BCE Inc. (BCE) Price Target Raised to C$66.00 at Citigroup Inc.
BCE Inc. (TSE:BCE) (NYSE:BCE) had its price target increased by equities researchers at Citigroup Inc. from C$65.00 to C$66.00 in a research note issued to investors on Friday. Citigroup Inc.'s target price would suggest a potential upside of 8.95% from the stock's previous close.
Other analysts have also issued research reports about the company. TD Securities reduced their target price on BCE from C$59.00 to C$58.00 and set a "hold" rating on the stock in a research note on Monday, September 25th. J P Morgan Chase & Co reduced their target price on BCE from C$66.00 to C$65.00 and set an "overweight" rating on the stock in a research note on Friday, August 4th. Finally, Scotiabank reduced their target price on BCE from C$61.00 to C$60.00 and set a "sector perform" rating on the stock in a research note on Thursday, July 27th. Three investment analysts have rated the stock with a hold rating and five have given a buy rating to the company. The company currently has an average rating of "Buy" and a consensus target price of C$62.62.
BCE (TSE BCE) traded up C$0.11 during mid-day trading on Friday, reaching C$60.58. The company's stock had a trading volume of 956,628 shares, compared to its average volume of 1,160,000. BCE has a twelve month low of C$56.80 and a twelve month high of C$63.00.
BCE (TSE:BCE) (NYSE:BCE) last released its earnings results on Thursday, August 3rd. The company reported C$0.88 earnings per share for the quarter, topping analysts' consensus estimates of C$0.87 by C$0.01. BCE had a return on equity of 20.64% and a net margin of 14.23%. The business had revenue of C$5.70 billion for the quarter, compared to analyst estimates of C$5.62 billion.
TRADEMARK VIOLATION WARNING: This news story was first published by American Banking News and is the sole property of of American Banking News. If you are reading this news story on another site, it was copied illegally and reposted in violation of U.S. & international copyright and trademark laws. The correct version of this news story can be read at https://www.americanbankingnews.com/2017/11/04/bce-inc-bce-price-target-raised-to-c66-00-at-citigroup-inc.html.
In related news, insider Blaik Kirby sold 6,498 shares of the firm's stock in a transaction dated Thursday, August 17th. The stock was sold at an average price of C$59.30, for a total transaction of C$385,331.40. Also, Director Katherine M. Lee acquired 2,000 shares of the company's stock in a transaction that occurred on Friday, August 18th. The shares were bought at an average cost of C$58.91 per share, for a total transaction of C$117,820.00.
BCE Company Profile
BCE Inc is a communications company. The Company's segments include Bell Wireless, Bell Wireline and Bell Media. Its Bell Wireless segment provides wireless voice and data communications products and services to its residential, small and medium-sized business and large enterprise customers across Canada.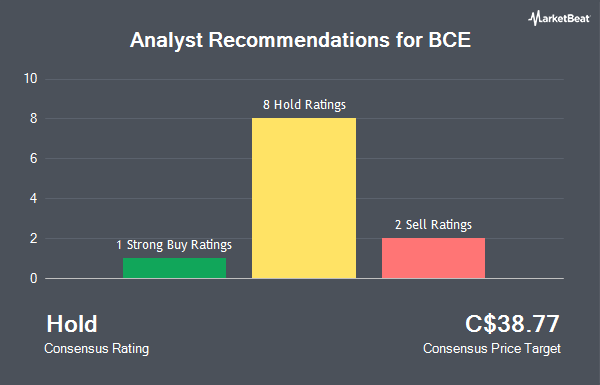 Receive News & Ratings for BCE Inc. Daily - Enter your email address below to receive a concise daily summary of the latest news and analysts' ratings for BCE Inc. and related companies with MarketBeat.com's FREE daily email newsletter.