Entercom Communications Corp. (ETM) Releases Quarterly Earnings Results, Beats Estimates By $0.02 EPS
Entercom Communications Corp. (NYSE:ETM) issued its quarterly earnings data on Thursday. The company reported $0.24 EPS for the quarter, topping the Thomson Reuters' consensus estimate of $0.22 by $0.02, Bloomberg Earnings reports. Entercom Communications Corp. had a return on equity of 8.64% and a net margin of 2.69%. The company had revenue of $122.30 million during the quarter, compared to analyst estimates of $120.76 million. During the same quarter in the previous year, the firm earned $0.27 earnings per share. Entercom Communications Corp.'s revenue was up .6% on a year-over-year basis.
Shares of Entercom Communications Corp. (NYSE ETM) traded down $0.05 during midday trading on Friday, hitting $10.70. The stock had a trading volume of 5,833,054 shares, compared to its average volume of 1,946,787. Entercom Communications Corp. has a 52 week low of $9.45 and a 52 week high of $16.55. The company has a quick ratio of 1.88, a current ratio of 1.88 and a debt-to-equity ratio of 1.15. The stock has a market capitalization of $436.13 million, a price-to-earnings ratio of 13.58, a price-to-earnings-growth ratio of 11.96 and a beta of 1.09.
The firm also recently disclosed a quarterly dividend, which will be paid on Friday, December 15th. Stockholders of record on Tuesday, November 28th will be issued a dividend of $0.09 per share. This represents a $0.36 annualized dividend and a dividend yield of 3.36%. The ex-dividend date is Monday, November 27th. Entercom Communications Corp.'s payout ratio is 63.83%.
ILLEGAL ACTIVITY WARNING: This article was posted by American Banking News and is owned by of American Banking News. If you are viewing this article on another site, it was illegally copied and reposted in violation of US & international trademark & copyright law. The correct version of this article can be viewed at https://www.americanbankingnews.com/2017/11/04/entercom-communications-corp-etm-releases-quarterly-earnings-results-beats-estimates-by-0-02-eps.html.
ETM has been the subject of several recent analyst reports. Noble Financial reissued a "buy" rating on shares of Entercom Communications Corp. in a report on Monday, July 31st. BidaskClub raised Entercom Communications Corp. from a "sell" rating to a "hold" rating in a report on Friday, August 11th.
Entercom Communications Corp. declared that its Board of Directors has approved a stock buyback program on Thursday, November 2nd that allows the company to buyback $100.00 million in shares. This buyback authorization allows the company to reacquire up to 22.2% of its shares through open market purchases. Shares buyback programs are usually a sign that the company's management believes its shares are undervalued.
Entercom Communications Corp. Company Profile
Entercom Communications Corp. is a radio broadcasting company. The Company sells advertising time to local, regional and national advertisers and national network advertisers, purchasing spot commercials in varying lengths. It focuses on station-related digital platforms, which allow for audience interaction and participation, and integrated local digital marketing solutions and station events.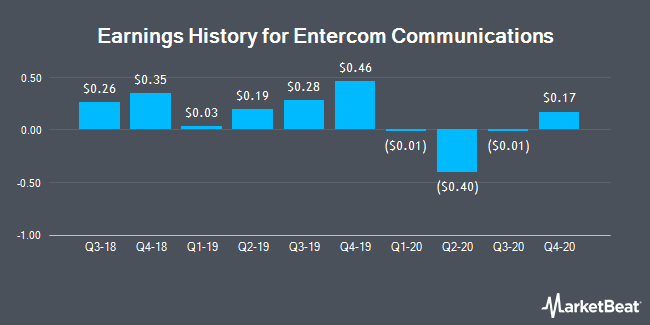 Receive News & Ratings for Entercom Communications Corp. Daily - Enter your email address below to receive a concise daily summary of the latest news and analysts' ratings for Entercom Communications Corp. and related companies with MarketBeat.com's FREE daily email newsletter.