Genie Energy Ltd (GNE) Issues Earnings Results
Genie Energy Ltd (NYSE:GNE) released its earnings results on Thursday. The oil and gas producer reported $0.02 earnings per share (EPS) for the quarter, Bloomberg Earnings reports. The company had revenue of $69.47 million for the quarter. Genie Energy had a negative return on equity of 15.39% and a negative net margin of 3.62%.
Genie Energy (NYSE:GNE) traded up $0.26 on Friday, hitting $5.58. The stock had a trading volume of 62,675 shares, compared to its average volume of 38,640. Genie Energy has a 12 month low of $5.02 and a 12 month high of $8.31. The company has a current ratio of 1.82, a quick ratio of 1.72 and a debt-to-equity ratio of 0.05.
The business also recently announced a quarterly dividend, which will be paid on Friday, November 17th. Stockholders of record on Monday, November 13th will be issued a dividend of $0.075 per share. This represents a $0.30 annualized dividend and a dividend yield of 5.38%. The ex-dividend date is Friday, November 10th. Genie Energy's dividend payout ratio (DPR) is currently -73.17%.
ILLEGAL ACTIVITY WARNING: "Genie Energy Ltd (GNE) Issues Earnings Results" was originally published by American Banking News and is the sole property of of American Banking News. If you are accessing this story on another publication, it was illegally stolen and reposted in violation of U.S. & international copyright and trademark legislation. The original version of this story can be viewed at https://www.americanbankingnews.com/2017/11/04/genie-energy-ltd-gne-issues-earnings-results.html.
Separately, TheStreet lowered Genie Energy from a "c-" rating to a "d+" rating in a report on Thursday, August 3rd.
In other news, Director James A. Courter sold 5,000 shares of the stock in a transaction on Monday, October 30th. The stock was sold at an average price of $5.62, for a total transaction of $28,100.00. Following the sale, the director now directly owns 291,983 shares of the company's stock, valued at approximately $1,640,944.46. The transaction was disclosed in a legal filing with the SEC, which is accessible through the SEC website. Also, CFO Avi Goldin sold 8,500 shares of the stock in a transaction on Monday, August 7th. The stock was sold at an average price of $6.21, for a total value of $52,785.00. Following the sale, the chief financial officer now directly owns 24,765 shares in the company, valued at $153,790.65. The disclosure for this sale can be found here. Over the last three months, insiders have sold 38,500 shares of company stock worth $237,885. 31.00% of the stock is currently owned by insiders.
A hedge fund recently raised its stake in Genie Energy stock. State Street Corp lifted its stake in shares of Genie Energy Ltd (NYSE:GNE) by 21.1% during the 2nd quarter, according to the company in its most recent 13F filing with the SEC. The institutional investor owned 180,427 shares of the oil and gas producer's stock after purchasing an additional 31,379 shares during the quarter. State Street Corp owned 0.78% of Genie Energy worth $1,375,000 as of its most recent SEC filing. Institutional investors own 20.76% of the company's stock.
About Genie Energy
Genie Energy Ltd. (Genie) owns interest in its subsidiary, Genie Energy International Corporation, which owns Genie Retail Energy and Genie Oil and Gas, Inc The Company operates through three segments: Genie Retail Energy (GRE), Afek Oil and Gas, Ltd. (Afek), and Genie Oil and Gas (GOGAS). The GRE segment operates retail energy providers (REPs), including IDT Energy, Inc and Residents Energy, Inc, and energy brokerage and marketing services.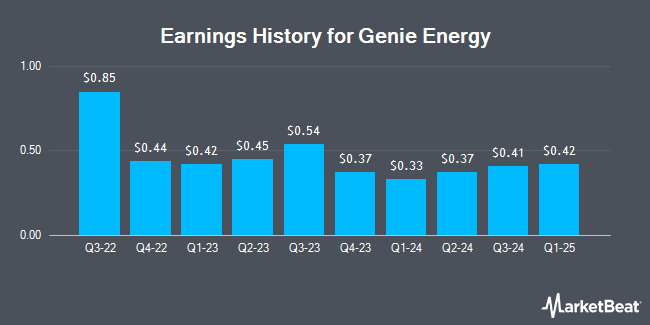 Receive News & Ratings for Genie Energy Ltd Daily - Enter your email address below to receive a concise daily summary of the latest news and analysts' ratings for Genie Energy Ltd and related companies with MarketBeat.com's FREE daily email newsletter.