IDACORP, Inc. (IDA) Posts Earnings Results, Beats Estimates By $0.14 EPS
IDACORP, Inc. (NYSE:IDA) issued its quarterly earnings results on Thursday. The coal producer reported $1.80 EPS for the quarter, beating analysts' consensus estimates of $1.66 by $0.14, Bloomberg Earnings reports. IDACORP had a return on equity of 9.53% and a net margin of 15.46%. The firm had revenue of $408.32 million for the quarter. During the same period in the prior year, the company earned $1.65 EPS. IDACORP updated its FY17 guidance to $4.05-4.15 EPS.
Shares of IDACORP (IDA) traded up $0.10 on Friday, reaching $92.71. The company had a trading volume of 210,138 shares, compared to its average volume of 197,192. IDACORP has a twelve month low of $72.93 and a twelve month high of $93.79. The company has a debt-to-equity ratio of 0.80, a current ratio of 2.20 and a quick ratio of 1.56. The stock has a market cap of $4,670.00, a PE ratio of 22.56, a price-to-earnings-growth ratio of 5.02 and a beta of 0.53.
The business also recently disclosed a quarterly dividend, which will be paid on Thursday, November 30th. Investors of record on Monday, November 6th will be issued a dividend of $0.59 per share. This is a boost from IDACORP's previous quarterly dividend of $0.55. The ex-dividend date of this dividend is Friday, November 3rd. This represents a $2.36 dividend on an annualized basis and a yield of 2.55%. IDACORP's dividend payout ratio is 53.53%.
IDA has been the topic of a number of recent research reports. Zacks Investment Research cut IDACORP from a "buy" rating to a "hold" rating in a research report on Wednesday, August 30th. BidaskClub cut IDACORP from a "hold" rating to a "sell" rating in a research report on Tuesday, July 11th. Finally, KeyCorp reaffirmed a "hold" rating on shares of IDACORP in a research report on Friday, October 20th.
TRADEMARK VIOLATION NOTICE: This story was originally posted by American Banking News and is the sole property of of American Banking News. If you are accessing this story on another domain, it was illegally copied and reposted in violation of U.S. and international trademark & copyright law. The correct version of this story can be read at https://www.americanbankingnews.com/2017/11/04/idacorp-inc-ida-posts-earnings-results-beats-estimates-by-0-14-eps.html.
IDACORP Company Profile
IDACORP, Inc is a holding company. The Company's principal operating subsidiary is Idaho Power Company (Idaho Power). The Company's segment is utility operations. The utility operations segment's primary source of revenue is the regulated operations of Idaho Power. Idaho Power is an electric utility engaged in the generation, transmission, distribution, sale and purchase of electric energy and capacity.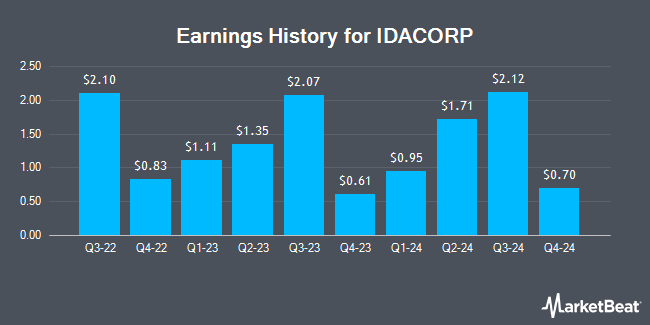 Receive News & Ratings for IDACORP Inc. Daily - Enter your email address below to receive a concise daily summary of the latest news and analysts' ratings for IDACORP Inc. and related companies with MarketBeat.com's FREE daily email newsletter.