Immersion Corporation (IMMR) Releases Quarterly Earnings Results, Beats Estimates By $0.16 EPS
Immersion Corporation (NASDAQ:IMMR) issued its quarterly earnings data on Thursday. The software maker reported ($0.10) earnings per share (EPS) for the quarter, topping the Thomson Reuters' consensus estimate of ($0.26) by $0.16, Bloomberg Earnings reports. Immersion Corporation had a negative return on equity of 88.17% and a negative net margin of 190.18%. The firm had revenue of $11.90 million during the quarter, compared to the consensus estimate of $7.33 million. During the same period in the previous year, the firm posted $0.34 EPS. The company's quarterly revenue was down 54.8% compared to the same quarter last year.
Shares of Immersion Corporation (NASDAQ:IMMR) traded down $0.36 on Friday, reaching $7.58. The company's stock had a trading volume of 294,700 shares, compared to its average volume of 145,518. Immersion Corporation has a 52 week low of $6.22 and a 52 week high of $11.92.
ILLEGAL ACTIVITY WARNING: This report was first reported by American Banking News and is the sole property of of American Banking News. If you are accessing this report on another site, it was stolen and reposted in violation of international copyright & trademark law. The original version of this report can be read at https://www.americanbankingnews.com/2017/11/04/immersion-corporation-immr-releases-quarterly-earnings-results-beats-estimates-by-0-16-eps.html.
Several research analysts recently issued reports on the company. B. Riley restated a "buy" rating and set a $10.50 price objective on shares of Immersion Corporation in a research report on Monday, July 31st. Zacks Investment Research upgraded Immersion Corporation from a "sell" rating to a "hold" rating in a research report on Wednesday, October 18th. Cowen and Company set a $11.00 price objective on Immersion Corporation and gave the stock a "buy" rating in a research report on Wednesday, August 2nd. Finally, ValuEngine upgraded Immersion Corporation from a "sell" rating to a "hold" rating in a research report on Saturday, September 30th. Three investment analysts have rated the stock with a hold rating and four have given a buy rating to the company. The stock currently has a consensus rating of "Buy" and an average price target of $10.75.
About Immersion Corporation
Immersion Corporation is a licensing company focused on the creation, design, development and licensing of haptic technologies that allow people to use their sense of touch when operating digital devices. The Company develops, licenses and supports a range of software and intellectual property (IP). It is focused on the markets, including mobile devices, wearables, consumer, mobile entertainment and other content; console gaming; automotive; medical, and commercial.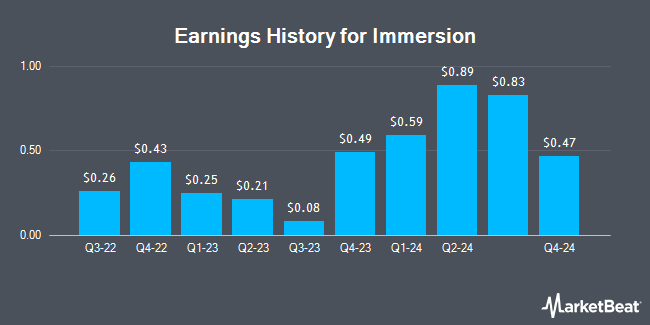 Receive News & Ratings for Immersion Corporation Daily - Enter your email address below to receive a concise daily summary of the latest news and analysts' ratings for Immersion Corporation and related companies with MarketBeat.com's FREE daily email newsletter.