National Bank Financial Raises Gildan Activewear Inc (GIL) Price Target to C$42.00
Gildan Activewear Inc (TSE:GIL) (NYSE:GIL) had its price objective boosted by equities researchers at National Bank Financial from C$41.00 to C$42.00 in a research report issued to clients and investors on Friday. The brokerage currently has a "sector perform" rating on the stock. National Bank Financial's target price would indicate a potential upside of 13.42% from the stock's previous close.
A number of other equities analysts also recently commented on GIL. TD Securities downgraded Gildan Activewear from a "buy" rating to a "hold" rating and set a C$41.50 price objective on the stock. in a research report on Friday, August 4th. BMO Capital Markets reiterated an "outperform" rating and set a C$34.00 price objective on shares of Gildan Activewear in a research report on Friday, August 4th. Canaccord Genuity downgraded Gildan Activewear from a "buy" rating to a "hold" rating in a research report on Thursday, July 13th. Finally, Royal Bank Of Canada downgraded Gildan Activewear from an "outperform" rating to a "sector perform" rating and set a C$40.00 price objective on the stock. in a research report on Wednesday, July 12th. Seven analysts have rated the stock with a hold rating and one has given a buy rating to the company's stock. Gildan Activewear has a consensus rating of "Hold" and an average price target of C$39.58.
Shares of Gildan Activewear (TSE GIL) traded down C$0.41 during trading on Friday, reaching C$37.03. The company had a trading volume of 1,250,000 shares, compared to its average volume of 631,893. Gildan Activewear has a 52-week low of C$30.97 and a 52-week high of C$42.18.
TRADEMARK VIOLATION NOTICE: This story was first published by American Banking News and is the property of of American Banking News. If you are accessing this story on another publication, it was stolen and reposted in violation of international copyright & trademark laws. The correct version of this story can be viewed at https://www.americanbankingnews.com/2017/11/04/national-bank-financial-raises-gildan-activewear-inc-gil-price-target-to-c42-00.html.
In related news, Director Glenn J. Chamandy sold 136,700 shares of the business's stock in a transaction on Monday, August 14th. The stock was sold at an average price of C$38.78, for a total transaction of C$5,301,226.00. Also, Director George Jason Heller bought 2,500 shares of the stock in a transaction that occurred on Thursday, August 10th. The shares were bought at an average cost of C$38.58 per share, with a total value of C$96,450.00. Insiders sold 227,300 shares of company stock valued at $8,567,256 over the last ninety days.
Gildan Activewear Company Profile
Gildan Activewear Inc is a manufacturer and marketer of branded basic family apparel, including T-shirts, fleece, sport shirts, underwear, socks, hosiery and shapewear. The Company operates through two segments: Printwear and Branded Apparel. The Printwear segment designs, manufactures, sources, markets, and distributes undecorated activewear products.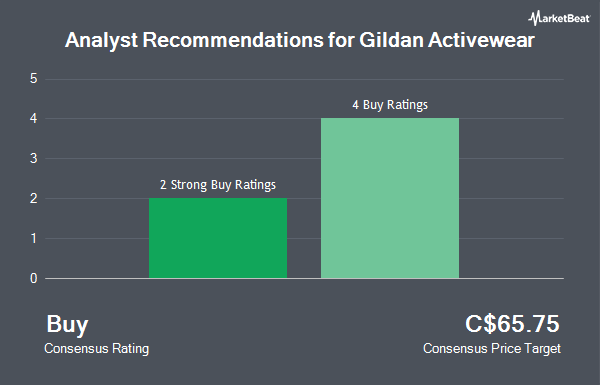 Receive News & Ratings for Gildan Activewear Inc Daily - Enter your email address below to receive a concise daily summary of the latest news and analysts' ratings for Gildan Activewear Inc and related companies with MarketBeat.com's FREE daily email newsletter.