Scotiabank Reaffirms Outperform Rating for Endeavour Mining Corp (EDV)
Endeavour Mining Corp (TSE:EDV)'s stock had its "outperform" rating restated by Scotiabank in a report released on Friday. They currently have a C$33.00 price objective on the stock. Scotiabank's target price indicates a potential upside of 45.12% from the company's previous close.
EDV has been the topic of several other reports. Raymond James Financial, Inc. raised their target price on shares of Endeavour Mining Corp from C$28.50 to C$30.50 in a report on Thursday, September 7th. Canaccord Genuity raised their target price on shares of Endeavour Mining Corp from C$33.00 to C$36.00 in a report on Friday, September 29th. Finally, BMO Capital Markets reissued an "outperform" rating and issued a C$30.00 target price on shares of Endeavour Mining Corp in a report on Saturday, September 23rd. One research analyst has rated the stock with a hold rating and five have issued a buy rating to the stock. The company presently has an average rating of "Buy" and an average target price of C$27.45.
Endeavour Mining Corp (TSE:EDV) traded up C$0.10 during mid-day trading on Friday, reaching C$22.74. 108,100 shares of the company's stock traded hands.
COPYRIGHT VIOLATION WARNING: This article was first published by American Banking News and is the sole property of of American Banking News. If you are reading this article on another site, it was stolen and reposted in violation of U.S. and international trademark and copyright legislation. The legal version of this article can be viewed at https://www.americanbankingnews.com/2017/11/04/scotiabank-reaffirms-outperform-rating-for-endeavour-mining-corp-edv.html.
In related news, insider Jeremy Langford purchased 6,000 shares of the firm's stock in a transaction that occurred on Thursday, August 24th. The shares were bought at an average cost of C$22.26 per share, with a total value of C$133,560.00.
About Endeavour Mining Corp
Endeavour Mining Corporation (Endeavour) is an intermediate gold producer. The Company is a gold mining company that operates five mines in Cote d'Ivoire (Agbaou and Ity), Burkina Faso (Karma), Mali (Tabakoto) and Ghana (Nzema), along with project development and exploration assets. The Company's segments include Agbaou Mine Cote d'Ivoire, Nzema Mine Ghana, Tabakoto Mine Mali, Ity Mine Cote d'Ivoire, Karma Mine Burkina Faso, Exploration and Non-Mining.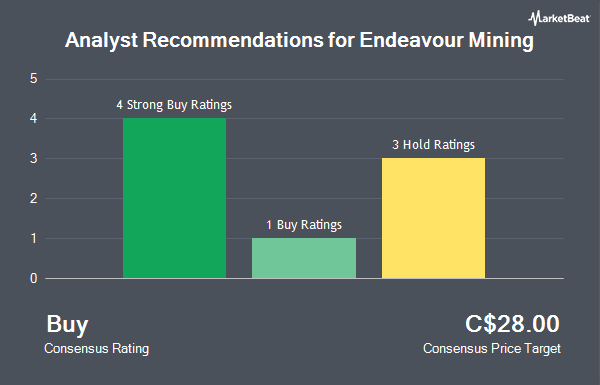 Receive News & Ratings for Endeavour Mining Corp Daily - Enter your email address below to receive a concise daily summary of the latest news and analysts' ratings for Endeavour Mining Corp and related companies with MarketBeat.com's FREE daily email newsletter.