Solar Capital Ltd. (SLRC) Issues Earnings Results, Misses Estimates By $0.01 EPS
Solar Capital Ltd. (NASDAQ:SLRC) issued its earnings results on Thursday. The financial services provider reported $0.41 earnings per share (EPS) for the quarter, missing the Zacks' consensus estimate of $0.42 by ($0.01), Bloomberg Earnings reports. The firm had revenue of $36.15 million during the quarter, compared to analysts' expectations of $35.95 million. Solar Capital had a return on equity of 7.30% and a net margin of 54.87%.
Solar Capital (SLRC) traded up $0.16 during midday trading on Friday, hitting $21.38. The company's stock had a trading volume of 52,597 shares, compared to its average volume of 79,910. The stock has a market cap of $903.54 million, a price-to-earnings ratio of 13.27, a P/E/G ratio of 2.61 and a beta of 0.55. Solar Capital has a twelve month low of $19.56 and a twelve month high of $22.94. The company has a debt-to-equity ratio of 0.32, a current ratio of 1.00 and a quick ratio of 1.00.
A number of equities analysts have weighed in on SLRC shares. Zacks Investment Research upgraded Solar Capital from a "sell" rating to a "hold" rating in a research note on Wednesday, October 11th. National Securities reiterated a "buy" rating and set a $24.00 price objective on shares of Solar Capital in a research note on Monday, August 7th. Keefe, Bruyette & Woods set a $23.00 price objective on Solar Capital and gave the company a "hold" rating in a research note on Thursday, August 3rd. Finally, BidaskClub lowered Solar Capital from a "hold" rating to a "sell" rating in a research note on Friday, July 28th. Two equities research analysts have rated the stock with a sell rating, three have issued a hold rating and two have issued a buy rating to the company's stock. The company has an average rating of "Hold" and a consensus target price of $23.10.
An institutional investor recently raised its position in Solar Capital stock. Northern Trust Corp lifted its position in shares of Solar Capital Ltd. (NASDAQ:SLRC) by 11.7% during the second quarter, according to its most recent disclosure with the Securities & Exchange Commission. The firm owned 10,412 shares of the financial services provider's stock after purchasing an additional 1,088 shares during the quarter. Northern Trust Corp's holdings in Solar Capital were worth $228,000 at the end of the most recent reporting period. Institutional investors own 62.84% of the company's stock.
TRADEMARK VIOLATION WARNING: "Solar Capital Ltd. (SLRC) Issues Earnings Results, Misses Estimates By $0.01 EPS" was originally posted by American Banking News and is the sole property of of American Banking News. If you are accessing this piece of content on another site, it was copied illegally and reposted in violation of U.S. and international copyright and trademark laws. The correct version of this piece of content can be viewed at https://www.americanbankingnews.com/2017/11/04/solar-capital-ltd-slrc-issues-earnings-results-misses-estimates-by-0-01-eps.html.
Solar Capital Company Profile
Solar Capital Ltd. is a closed-end, externally managed, non-diversified management investment company. The Company's investment objective is to generate both current income and capital appreciation through debt and equity investments. It invests in privately held the United States middle market companies.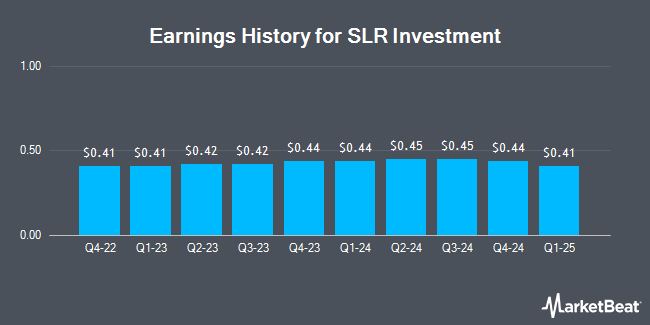 Receive News & Ratings for Solar Capital Ltd. Daily - Enter your email address below to receive a concise daily summary of the latest news and analysts' ratings for Solar Capital Ltd. and related companies with MarketBeat.com's FREE daily email newsletter.