NACCO Industries, Inc. (NC) Raises Dividend to $0.17 Per Share
NACCO Industries, Inc. (NYSE:NC) announced a quarterly dividend on Wednesday, November 8th, Wall Street Journal reports. Shareholders of record on Friday, December 1st will be paid a dividend of 0.165 per share on Friday, December 15th. This represents a $0.66 dividend on an annualized basis and a yield of 1.54%. The ex-dividend date is Thursday, November 30th. This is a boost from NACCO Industries's previous quarterly dividend of $0.06.
NACCO Industries has increased its dividend by an average of 2.1% per year over the last three years and has increased its dividend every year for the last 3 years.
Shares of NACCO Industries (NYSE NC) traded up $1.90 during trading hours on Wednesday, reaching $42.90. The company's stock had a trading volume of 60,240 shares, compared to its average volume of 49,496. The firm has a market cap of $271.39, a PE ratio of 6.63 and a beta of 0.34. The company has a current ratio of 3.80, a quick ratio of 3.09 and a debt-to-equity ratio of 0.28. NACCO Industries has a 52-week low of $23.80 and a 52-week high of $99.55.
A number of research analysts have weighed in on NC shares. BidaskClub lowered NACCO Industries from a "sell" rating to a "strong sell" rating in a research note on Tuesday, July 25th. TheStreet lowered NACCO Industries from a "b-" rating to a "c" rating in a research note on Monday, July 31st.
COPYRIGHT VIOLATION NOTICE: This story was first posted by American Banking News and is owned by of American Banking News. If you are viewing this story on another site, it was stolen and republished in violation of U.S. and international trademark and copyright legislation. The original version of this story can be read at https://www.americanbankingnews.com/2017/11/08/nacco-industries-inc-nc-raises-dividend-to-0-17-per-share.html.
About NACCO Industries
NACCO Industries, Inc is a holding company. The Company's principal business includes mining. The Company operates through the NACoal segment. The Company's subsidiary includes The North American Coal Corporation (NACoal). The Company's NACoal segment mines coal for use in power generation and provides mining services for other natural resources companies.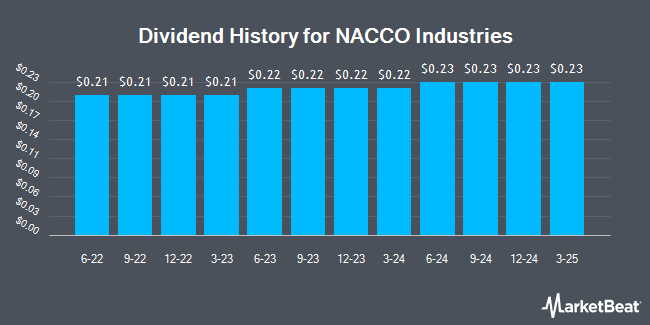 Receive News & Ratings for NACCO Industries Inc. Daily - Enter your email address below to receive a concise daily summary of the latest news and analysts' ratings for NACCO Industries Inc. and related companies with MarketBeat.com's FREE daily email newsletter.