Inter Parfums, Inc. (IPAR) Updates FY18 Earnings Guidance
Inter Parfums, Inc. (NASDAQ:IPAR) issued an update on its FY18 earnings guidance on Monday morning. The company provided earnings per share (EPS) guidance of $1.40 for the period, compared to the Thomson Reuters consensus estimate of $1.45. The company issued revenue guidance of $620 million, compared to the consensus revenue estimate of $618.30 million.
Shares of Inter Parfums, Inc. (IPAR) traded down $0.05 on Monday, hitting $43.25. The stock had a trading volume of 63,600 shares, compared to its average volume of 83,456. The company has a quick ratio of 2.54, a current ratio of 3.39 and a debt-to-equity ratio of 0.07. Inter Parfums, Inc. has a twelve month low of $30.45 and a twelve month high of $46.80. The firm has a market capitalization of $1,348.83, a price-to-earnings ratio of 31.80, a PEG ratio of 2.73 and a beta of 1.80.
Inter Parfums (NASDAQ:IPAR) last released its earnings results on Wednesday, November 8th. The company reported $0.55 earnings per share for the quarter, beating the consensus estimate of $0.50 by $0.05. Inter Parfums had a return on equity of 8.06% and a net margin of 7.13%. The firm had revenue of $169.50 million for the quarter, compared to analyst estimates of $160.52 million. During the same quarter in the prior year, the firm posted $0.52 earnings per share. The company's quarterly revenue was up 7.6% on a year-over-year basis. equities analysts predict that Inter Parfums, Inc. will post 1.29 EPS for the current fiscal year.
The business also recently announced a quarterly dividend, which will be paid on Monday, January 15th. Shareholders of record on Friday, December 29th will be paid a $0.21 dividend. This is a positive change from Inter Parfums's previous quarterly dividend of $0.17. The ex-dividend date is Thursday, December 28th. This represents a $0.84 annualized dividend and a yield of 1.94%. Inter Parfums's dividend payout ratio is presently 51.13%.
Several equities research analysts have issued reports on IPAR shares. Zacks Investment Research downgraded Inter Parfums from a buy rating to a hold rating in a report on Wednesday, August 30th. BidaskClub upgraded Inter Parfums from a buy rating to a strong-buy rating in a report on Saturday, August 26th. Finally, DA Davidson reiterated a buy rating and set a $45.00 price objective (up from $44.00) on shares of Inter Parfums in a report on Thursday, August 10th. Three investment analysts have rated the stock with a hold rating, four have given a buy rating and one has assigned a strong buy rating to the company's stock. The company has an average rating of Buy and an average target price of $44.50.
In related news, Director Torres Robert Bensoussan sold 6,000 shares of Inter Parfums stock in a transaction that occurred on Thursday, October 12th. The stock was sold at an average price of $42.09, for a total transaction of $252,540.00. The transaction was disclosed in a legal filing with the Securities & Exchange Commission, which can be accessed through this hyperlink. Also, CFO Russell Greenberg sold 2,500 shares of Inter Parfums stock in a transaction that occurred on Thursday, August 31st. The stock was sold at an average price of $39.60, for a total value of $99,000.00. Following the sale, the chief financial officer now directly owns 5,500 shares of the company's stock, valued at $217,800. The disclosure for this sale can be found here. Over the last ninety days, insiders sold 9,250 shares of company stock valued at $382,733. Insiders own 45.40% of the company's stock.
TRADEMARK VIOLATION NOTICE: "Inter Parfums, Inc. (IPAR) Updates FY18 Earnings Guidance" was published by American Banking News and is the property of of American Banking News. If you are reading this piece on another domain, it was copied illegally and republished in violation of US and international trademark and copyright legislation. The legal version of this piece can be read at https://www.americanbankingnews.com/2017/11/13/inter-parfums-inc-ipar-updates-fy18-earnings-guidance.html.
Inter Parfums Company Profile
Inter Parfums, Inc operates in the fragrance business. The Company manufactures, markets and distributes an array of fragrance and fragrance related products. It operates through two segments: European based operations and United States based operations. The European Operations segment produces and distributes its fragrance products under license agreements with brand owners.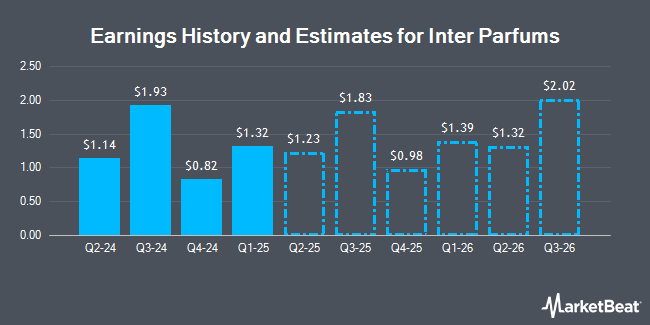 Receive News & Ratings for Inter Parfums Inc. Daily - Enter your email address below to receive a concise daily summary of the latest news and analysts' ratings for Inter Parfums Inc. and related companies with MarketBeat.com's FREE daily email newsletter.