Scor SE (SCRYY) Given Consensus Rating of "Hold" by Brokerages
Shares of Scor SE (OTCMKTS:SCRYY) have received an average recommendation of "Hold" from the six research firms that are currently covering the stock, MarketBeat reports. One equities research analyst has rated the stock with a sell recommendation, two have issued a hold recommendation and three have given a buy recommendation to the company.
Several brokerages have commented on SCRYY. ValuEngine downgraded Scor SE from a "buy" rating to a "hold" rating in a research note on Friday, October 27th. Jefferies Group LLC upgraded Scor SE from a "hold" rating to a "buy" rating in a research note on Monday, October 2nd.
ILLEGAL ACTIVITY WARNING: This piece was originally posted by American Banking News and is the property of of American Banking News. If you are viewing this piece on another domain, it was illegally stolen and republished in violation of United States & international trademark and copyright legislation. The correct version of this piece can be accessed at https://www.americanbankingnews.com/2017/11/15/scor-se-scryy-given-consensus-rating-of-hold-by-brokerages.html.
Shares of Scor SE (OTCMKTS SCRYY) opened at $4.15 on Wednesday. The company has a debt-to-equity ratio of 0.35, a quick ratio of 8.79 and a current ratio of 8.79. Scor SE has a 52 week low of $3.11 and a 52 week high of $4.35. The company has a market capitalization of $8,105.22, a price-to-earnings ratio of 32.38 and a beta of 0.64.
Scor SE Company Profile
SCOR SE is engaged in providing life and non-life reinsurance. The Company's segments include SCOR Global P&C (Non-Life) and SCOR Global Life (Life). The Company's divisions include SCOR Global P&C, SCOR Global Life and SCOR Global Investments. The Company's Non-Life segment is divided into four business areas: Property and Casualty Treaties; Specialty Treaties; Business Solutions (underwriting of large corporate accounts), and Business Ventures and Partnerships.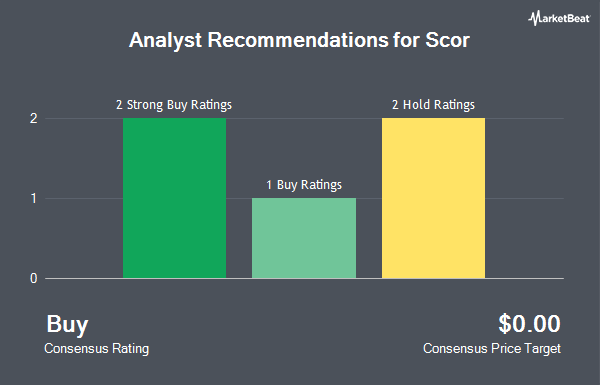 Receive News & Ratings for Scor SE Daily - Enter your email address below to receive a concise daily summary of the latest news and analysts' ratings for Scor SE and related companies with MarketBeat.com's FREE daily email newsletter.