Sino-Global Shipping America, Ltd. (SINO) Posts Earnings Results
Sino-Global Shipping America, Ltd. (NASDAQ:SINO) released its quarterly earnings results on Tuesday. The transportation company reported $0.07 EPS for the quarter, Bloomberg Earnings reports. Sino-Global Shipping America had a net margin of 31.67% and a return on equity of 33.17%.
Sino-Global Shipping America (NASDAQ:SINO) traded down $0.24 during mid-day trading on Wednesday, hitting $2.85. 771,200 shares of the company's stock were exchanged, compared to its average volume of 455,781. Sino-Global Shipping America has a one year low of $1.62 and a one year high of $14.20. The company has a market cap of $31.23, a P/E ratio of 7.72 and a beta of 3.15.
In other Sino-Global Shipping America news, CEO Lei Cao sold 60,000 shares of the business's stock in a transaction dated Friday, October 6th. The shares were sold at an average price of $2.86, for a total transaction of $171,600.00. The transaction was disclosed in a filing with the SEC, which is available through the SEC website. Insiders have sold a total of 66,000 shares of company stock worth $187,920 over the last 90 days. 24.50% of the stock is owned by insiders.
ILLEGAL ACTIVITY NOTICE: This piece of content was first reported by American Banking News and is owned by of American Banking News. If you are reading this piece of content on another website, it was illegally copied and republished in violation of US and international copyright & trademark laws. The correct version of this piece of content can be viewed at https://www.americanbankingnews.com/2017/11/15/sino-global-shipping-america-ltd-sino-posts-earnings-results.html.
Sino-Global Shipping America Company Profile
Sino-Global Shipping America, Ltd. is a non-asset-based global shipping and freight logistic integrated solution provider. The Company provides solutions and value added services to its customers in the shipping and freight logistic chain sector. The Company's segments include Shipping Agency and Ship Management Services; Shipping & Chartering Services, and Inland Transportation Management Services.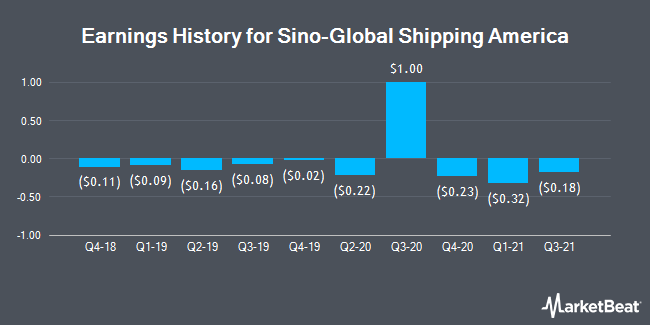 Receive News & Ratings for Sino-Global Shipping America Ltd. Daily - Enter your email address below to receive a concise daily summary of the latest news and analysts' ratings for Sino-Global Shipping America Ltd. and related companies with MarketBeat.com's FREE daily email newsletter.