Target Corporation (TGT) Issues Q4 Earnings Guidance
Target Corporation (NYSE:TGT) updated its fourth quarter earnings guidance on Wednesday. The company provided EPS guidance of $1.05-1.25 for the period, compared to the Thomson Reuters consensus EPS estimate of $1.24.
A number of analysts recently commented on the company. BidaskClub lowered Target Corporation from a buy rating to a hold rating in a research note on Saturday, August 12th. Stifel Nicolaus reaffirmed a hold rating and set a $60.00 price objective (up previously from $58.00) on shares of Target Corporation in a research note on Friday, August 18th. Vetr lowered Target Corporation from a buy rating to a hold rating and set a $59.67 price objective on the stock. in a research note on Monday, August 7th. Gordon Haskett raised Target Corporation from a sell rating to a hold rating and increased their price objective for the company from $47.00 to $58.00 in a research note on Wednesday, August 16th. Finally, TheStreet raised Target Corporation from a c+ rating to a b rating in a research note on Thursday, September 28th. Five equities research analysts have rated the stock with a sell rating, nineteen have issued a hold rating and four have issued a buy rating to the stock. The company currently has an average rating of Hold and a consensus target price of $63.68.
Shares of Target Corporation (TGT) traded down $0.31 during trading hours on Wednesday, hitting $60.09. The company had a trading volume of 8,014,200 shares, compared to its average volume of 7,170,398. The stock has a market cap of $29,970.00, a P/E ratio of 12.25, a P/E/G ratio of 2.84 and a beta of 0.63. The company has a current ratio of 0.91, a quick ratio of 0.26 and a debt-to-equity ratio of 0.98. Target Corporation has a 1-year low of $48.56 and a 1-year high of $79.33.
Target Corporation (NYSE:TGT) last announced its earnings results on Wednesday, November 15th. The retailer reported $0.91 EPS for the quarter, beating the consensus estimate of $0.86 by $0.05. The business had revenue of $16.67 billion for the quarter, compared to the consensus estimate of $16.61 billion. Target Corporation had a return on equity of 25.06% and a net margin of 3.99%. The company's revenue was up 1.4% on a year-over-year basis. During the same period last year, the business posted $1.04 EPS. equities research analysts expect that Target Corporation will post 4.53 EPS for the current year.
The business also recently announced a quarterly dividend, which will be paid on Sunday, December 10th. Investors of record on Wednesday, November 15th will be issued a dividend of $0.62 per share. The ex-dividend date is Tuesday, November 14th. This represents a $2.48 annualized dividend and a dividend yield of 4.13%. Target Corporation's payout ratio is currently 50.10%.
In related news, insider Hourigan Rice Jacqueline sold 4,679 shares of the firm's stock in a transaction dated Friday, September 15th. The stock was sold at an average price of $59.37, for a total transaction of $277,792.23. The sale was disclosed in a filing with the SEC, which can be accessed through this hyperlink. Company insiders own 0.20% of the company's stock.
WARNING: This piece of content was reported by American Banking News and is the property of of American Banking News. If you are accessing this piece of content on another domain, it was copied illegally and reposted in violation of US and international copyright and trademark legislation. The original version of this piece of content can be viewed at https://www.americanbankingnews.com/2017/11/15/target-corporation-tgt-issues-q4-earnings-guidance.html.
About Target Corporation
Target Corporation (Target) is a general merchandise retailer selling products through its stores and digital channels. Its general merchandise stores offer an edited food assortment, including perishables, dry grocery, dairy and frozen items. Its digital channels include a range of general merchandise, including a range of items found in its stores, along with an assortment, such as additional sizes and colors sold only online.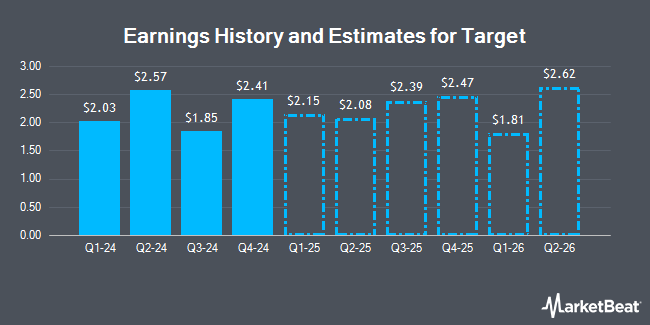 Receive News & Ratings for Target Corporation Daily - Enter your email address below to receive a concise daily summary of the latest news and analysts' ratings for Target Corporation and related companies with MarketBeat.com's FREE daily email newsletter.