Valvoline Inc. (VVV) Raises Dividend to $0.07 Per Share
Valvoline Inc. (NYSE:VVV) declared a quarterly dividend on Wednesday, November 15th, Wall Street Journal reports. Stockholders of record on Friday, December 1st will be paid a dividend of 0.0745 per share by the basic materials company on Friday, December 15th. This represents a $0.30 annualized dividend and a dividend yield of 1.28%. The ex-dividend date is Thursday, November 30th. This is an increase from Valvoline's previous quarterly dividend of $0.05.
Valvoline has a payout ratio of 15.9% meaning its dividend is sufficiently covered by earnings. Equities research analysts expect Valvoline to earn $1.40 per share next year, which means the company should continue to be able to cover its $0.20 annual dividend with an expected future payout ratio of 14.3%.
Shares of Valvoline (NYSE:VVV) traded up $0.18 during mid-day trading on Wednesday, hitting $23.26. 1,702,800 shares of the stock traded hands, compared to its average volume of 1,324,881. The company has a quick ratio of 1.29, a current ratio of 1.65 and a debt-to-equity ratio of -8.84. Valvoline has a twelve month low of $19.31 and a twelve month high of $24.98. The company has a market capitalization of $4,676.59, a PE ratio of 16.60, a price-to-earnings-growth ratio of 2.20 and a beta of 1.62.
Valvoline (NYSE:VVV) last issued its quarterly earnings results on Wednesday, November 8th. The basic materials company reported $0.33 EPS for the quarter, missing the consensus estimate of $0.34 by ($0.01). The company had revenue of $547.00 million for the quarter, compared to the consensus estimate of $528.14 million. Valvoline had a negative return on equity of 137.91% and a net margin of 14.59%. The business's revenue for the quarter was up 10.7% on a year-over-year basis. During the same period in the previous year, the business posted $0.35 EPS. equities research analysts expect that Valvoline will post 1.26 earnings per share for the current fiscal year.
COPYRIGHT VIOLATION WARNING: This article was posted by American Banking News and is the sole property of of American Banking News. If you are accessing this article on another domain, it was copied illegally and reposted in violation of U.S. & international trademark & copyright laws. The legal version of this article can be accessed at https://www.americanbankingnews.com/2017/11/15/valvoline-inc-vvv-raises-dividend-to-0-07-per-share.html.
Several research firms recently weighed in on VVV. Zacks Investment Research lowered shares of Valvoline from a "buy" rating to a "hold" rating in a research note on Tuesday. SunTrust Banks, Inc. reiterated a "hold" rating and set a $25.00 price objective on shares of Valvoline in a research note on Friday, November 10th. Morgan Stanley increased their price objective on shares of Valvoline from $25.00 to $26.00 and gave the stock an "equal weight" rating in a research note on Friday, November 10th. Finally, J P Morgan Chase & Co reiterated a "neutral" rating and set a $22.00 price objective (up previously from $20.00) on shares of Valvoline in a research note on Wednesday, August 9th. Five investment analysts have rated the stock with a hold rating and three have issued a buy rating to the company. The company has a consensus rating of "Hold" and a consensus price target of $25.38.
About Valvoline
Valvoline Inc (Valvoline) is engaged in the production and distribution of automotive, commercial and industrial lubricants, and automotive chemicals. The Company operates through three segments: Core North America, Quick Lubes and International. The Core North America segment sells Valvoline, and other branded and private label products in the United States and Canada to both consumers performing their own automotive maintenance, referred to as Do-It-Yourself (DIY) consumers, as well as, to installer customers using Valvoline products to service vehicles owned by Do-It-For-Me (DIFM) consumers.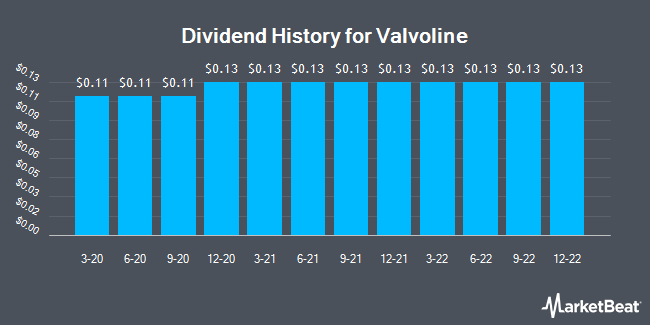 Receive News & Ratings for Valvoline Inc. Daily - Enter your email address below to receive a concise daily summary of the latest news and analysts' ratings for Valvoline Inc. and related companies with MarketBeat.com's FREE daily email newsletter.