Intertek Group plc (ITRK) Rating Reiterated by Shore Capital
Intertek Group plc (LON:ITRK)'s stock had its "sell" rating reaffirmed by analysts at Shore Capital in a research note issued on Tuesday.
ITRK has been the topic of several other research reports. Berenberg Bank lifted their price target on Intertek Group plc from GBX 4,450 ($58.53) to GBX 4,600 ($60.50) and gave the stock a "hold" rating in a report on Monday, August 21st. Kepler Capital Markets lowered shares of Intertek Group plc to a "hold" rating and boosted their price objective for the company from GBX 5,130 ($67.47) to GBX 5,190 ($68.26) in a report on Tuesday, November 14th. Jefferies Group LLC boosted their price objective on shares of Intertek Group plc from GBX 4,900 ($64.45) to GBX 5,300 ($69.71) and gave the company a "buy" rating in a report on Wednesday, August 2nd. Finally, Barclays PLC restated an "equal weight" rating and issued a GBX 4,350 ($57.21) price objective on shares of Intertek Group plc in a report on Wednesday, August 2nd. Five investment analysts have rated the stock with a sell rating, ten have assigned a hold rating and two have issued a buy rating to the company. Intertek Group plc presently has a consensus rating of "Hold" and a consensus target price of GBX 4,077.93 ($53.64).
Intertek Group plc (ITRK) traded down GBX 230 ($3.03) during midday trading on Tuesday, hitting GBX 5,175 ($68.07). The stock had a trading volume of 796,061 shares, compared to its average volume of 349,819. Intertek Group plc has a fifty-two week low of GBX 3,161 ($41.58) and a fifty-two week high of GBX 5,470 ($71.95).
WARNING: This article was first reported by American Banking News and is the property of of American Banking News. If you are viewing this article on another domain, it was copied illegally and reposted in violation of U.S. and international trademark & copyright laws. The legal version of this article can be accessed at https://www.americanbankingnews.com/2017/11/21/intertek-group-plc-itrk-rating-reiterated-by-shore-capital.html.
Intertek Group plc Company Profile
Intertek Group PLC is a United Kingdom-based company, which offers quality assurance services. The Company's segments include Products, Trade and Resources. The Products-related division consists of business lines that are focused on ensuring the quality and safety of physical components and products, as well minimizing risk through assessing the operating process and quality management systems of its customers.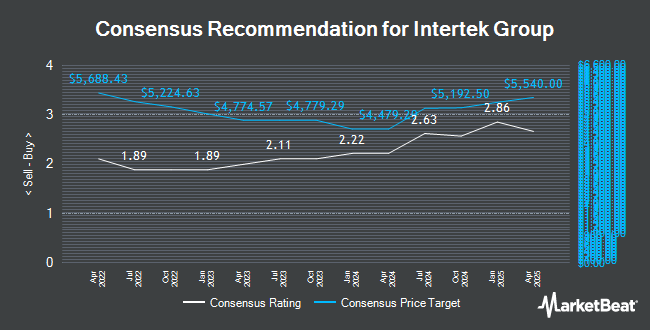 Receive News & Ratings for Intertek Group plc Daily - Enter your email address below to receive a concise daily summary of the latest news and analysts' ratings for Intertek Group plc and related companies with MarketBeat.com's FREE daily email newsletter.