QAD Inc. (QADA) Releases Quarterly Earnings Results, Beats Estimates By $0.03 EPS
QAD Inc. (NASDAQ:QADA) issued its quarterly earnings data on Tuesday. The software maker reported ($0.01) earnings per share (EPS) for the quarter, beating the Thomson Reuters' consensus estimate of ($0.04) by $0.03, Briefing.com reports. QAD had a negative return on equity of 0.47% and a negative net margin of 5.98%. The business had revenue of $76.93 million during the quarter, compared to analyst estimates of $73.99 million. During the same period in the previous year, the firm earned $0.07 EPS. QAD's quarterly revenue was up 10.6% compared to the same quarter last year.
Shares of QAD (QADA) traded up $0.50 during trading on Tuesday, hitting $38.20. The stock had a trading volume of 29,600 shares, compared to its average volume of 36,928. QAD has a one year low of $24.95 and a one year high of $39.70. The company has a current ratio of 1.59, a quick ratio of 1.59 and a debt-to-equity ratio of 0.12.
ILLEGAL ACTIVITY WARNING: This piece of content was originally published by American Banking News and is the sole property of of American Banking News. If you are reading this piece of content on another website, it was stolen and republished in violation of United States and international copyright and trademark law. The legal version of this piece of content can be accessed at https://www.americanbankingnews.com/2017/11/21/qad-inc-qada-releases-quarterly-earnings-results-beats-estimates-by-0-03-eps.html.
Several brokerages recently issued reports on QADA. Zacks Investment Research lowered QAD from a "buy" rating to a "hold" rating in a research report on Thursday, July 27th. BidaskClub raised QAD from a "sell" rating to a "hold" rating in a research report on Tuesday, August 8th. Stifel Nicolaus upped their price target on QAD from $33.00 to $38.00 and gave the stock a "buy" rating in a research report on Wednesday, September 20th. Finally, Canaccord Genuity upped their price target on QAD from $35.00 to $36.00 and gave the stock a "buy" rating in a research report on Monday, August 28th. Four investment analysts have rated the stock with a hold rating and four have assigned a buy rating to the company. QAD has a consensus rating of "Buy" and a consensus price target of $37.00.
QAD Company Profile
QAD Inc (QAD) is a provider of vertically oriented enterprise software solutions for global manufacturing companies across the automotive, life sciences, consumer products, food and beverage, high technology and industrial products industries. QAD Enterprise Applications enables measurement and control of business processes and supports operational requirements, including financials, manufacturing, demand and supply chain planning, customer management, business intelligence and business process management.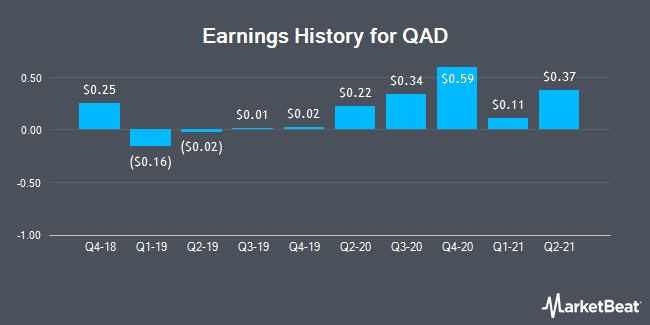 Receive News & Ratings for QAD Inc. Daily - Enter your email address below to receive a concise daily summary of the latest news and analysts' ratings for QAD Inc. and related companies with MarketBeat.com's FREE daily email newsletter.