Stella-Jones Inc (SJ) Price Target Increased to C$55.00 by Analysts at Acumen Capital
Stella-Jones Inc (TSE:SJ) had its target price increased by research analysts at Acumen Capital from C$50.50 to C$55.00 in a report issued on Wednesday. The firm presently has a "buy" rating on the stock. Acumen Capital's price objective suggests a potential upside of 8.27% from the company's current price.
A number of other analysts also recently commented on SJ. Scotiabank boosted their target price on Stella-Jones from C$41.00 to C$45.00 and gave the stock a "sector perform" rating in a research report on Thursday, August 10th. National Bank Financial boosted their target price on Stella-Jones from C$42.00 to C$48.00 in a research report on Thursday, August 10th. TD Securities boosted their target price on Stella-Jones from C$48.00 to C$49.00 and gave the stock a "hold" rating in a research report on Friday, November 17th. Finally, Royal Bank Of Canada reiterated an "outperform" rating and set a C$56.00 target price on shares of Stella-Jones in a research report on Tuesday, October 17th. Six investment analysts have rated the stock with a hold rating and two have assigned a buy rating to the company. Stella-Jones has a consensus rating of "Hold" and an average target price of C$49.25.
Stella-Jones (TSE SJ) traded up C$0.01 during trading on Wednesday, hitting C$50.80. The company had a trading volume of 79,597 shares, compared to its average volume of 117,758. Stella-Jones has a 12-month low of C$37.17 and a 12-month high of C$51.19.
TRADEMARK VIOLATION WARNING: This report was posted by American Banking News and is the sole property of of American Banking News. If you are accessing this report on another domain, it was illegally stolen and reposted in violation of United States and international copyright & trademark law. The legal version of this report can be viewed at https://www.americanbankingnews.com/2017/11/22/stella-jones-inc-sj-price-target-increased-to-c55-00-by-analysts-at-acumen-capital.html.
In related news, Director Glen Ritchie sold 1,000 shares of the company's stock in a transaction on Friday, September 22nd. The stock was sold at an average price of C$48.70, for a total value of C$48,700.00.
Stella-Jones Company Profile
Stella-Jones Inc is a Canada-based company, which is a producer and marketer of pressure treated wood products. The Company supplies North America's railroad operators with railway ties and timbers, and the continent's electrical utilities and telecommunication companies with utility poles. It manufactures and distributes residential lumber and accessories to retailers for outdoor applications, as well as industrial products, which include marine and foundation pilings, construction timbers, wood for bridges and coal tar-based products.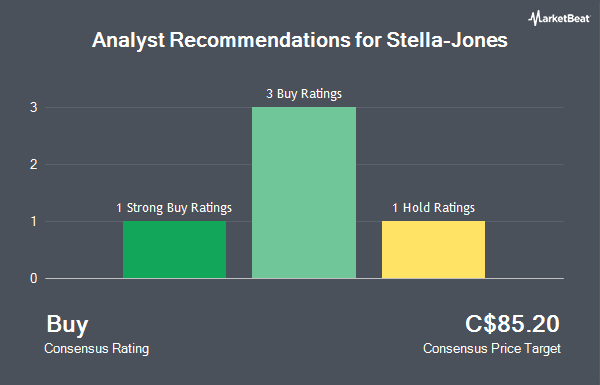 Receive News & Ratings for Stella-Jones Inc Daily - Enter your email address below to receive a concise daily summary of the latest news and analysts' ratings for Stella-Jones Inc and related companies with MarketBeat.com's FREE daily email newsletter.