Continental AG (OTCMKTS:CTTAY) has earned an average rating of "Buy" from the ten analysts that are covering the company, Marketbeat Ratings reports. One research analyst has rated the stock with a sell rating, one has issued a hold rating and eight have issued a buy rating on the company.
A number of brokerages recently commented on CTTAY. UBS Group AG reissued a "buy" rating on shares of Continental AG in a report on Thursday, September 14th. Deutsche Bank AG raised Continental AG from a "hold" rating to a "buy" rating in a report on Wednesday, August 9th. DZ Bank AG reissued a "buy" rating on shares of Continental AG in a report on Tuesday, August 8th. Finally, Zacks Investment Research downgraded Continental AG from a "buy" rating to a "hold" rating in a report on Monday, October 23rd.
ILLEGAL ACTIVITY NOTICE: This piece of content was originally published by American Banking News and is owned by of American Banking News. If you are accessing this piece of content on another website, it was illegally copied and republished in violation of US & international copyright & trademark laws. The original version of this piece of content can be viewed at https://www.americanbankingnews.com/2017/11/23/continental-ag-cttay-given-average-rating-of-buy-by-brokerages.html.
Shares of Continental AG (CTTAY) traded down $0.73 during trading on Thursday, reaching $50.62. 18,086 shares of the company's stock were exchanged, compared to its average volume of 17,737. Continental AG has a fifty-two week low of $34.14 and a fifty-two week high of $51.98. The company has a debt-to-equity ratio of 0.18, a current ratio of 1.10 and a quick ratio of 0.81. The company has a market capitalization of $50,520.00, a P/E ratio of 17.77, a PEG ratio of 1.85 and a beta of 1.53.
Continental AG Company Profile
Continental AG is an automotive supplier. The Company's segments include Chassis & Safety, Powertrain, Interior, Tires, ContiTech and Other/consolidation. The Chassis & Safety division develops, produces and markets intelligent systems. The Chassis & Safety division consists of four business units: Vehicle Dynamics, Hydraulic Brake Systems, Passive Safety & Sensorics, and Advanced Driver Assistance Systems.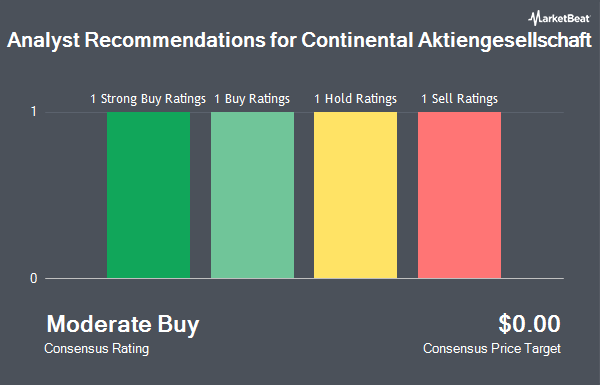 Receive News & Ratings for Continental AG Daily - Enter your email address below to receive a concise daily summary of the latest news and analysts' ratings for Continental AG and related companies with MarketBeat.com's FREE daily email newsletter.