Deutsche Lufthansa (DLAKY) Lifted to "Buy" at Deutsche Bank
Deutsche Lufthansa (OTCMKTS:DLAKY) was upgraded by research analysts at Deutsche Bank to a "buy" rating in a research report issued to clients and investors on Friday.
Several other brokerages also recently commented on DLAKY. Sanford C. Bernstein raised shares of Deutsche Lufthansa from an "underperform" rating to a "market perform" rating in a report on Friday, September 1st. Morgan Stanley upgraded Deutsche Lufthansa from an "underweight" rating to an "equal weight" rating in a research report on Tuesday, August 29th. One research analyst has rated the stock with a sell rating, five have assigned a hold rating, four have assigned a buy rating and one has issued a strong buy rating to the company. The company currently has a consensus rating of "Hold".
Shares of Deutsche Lufthansa (DLAKY) opened at $34.36 on Friday. The company has a market capitalization of $16,150.00, a PE ratio of 7.85 and a beta of 0.64. The company has a current ratio of 0.97, a quick ratio of 0.91 and a debt-to-equity ratio of 0.89. Deutsche Lufthansa has a twelve month low of $12.17 and a twelve month high of $35.20.
An institutional investor recently raised its position in Deutsche Lufthansa stock. Parametric Portfolio Associates LLC increased its stake in shares of Deutsche Lufthansa AG (OTCMKTS:DLAKY) by 4.7% in the 1st quarter, according to its most recent disclosure with the Securities & Exchange Commission. The fund owned 285,071 shares of the transportation company's stock after purchasing an additional 12,769 shares during the period. Parametric Portfolio Associates LLC's holdings in Deutsche Lufthansa were worth $4,612,000 as of its most recent filing with the Securities & Exchange Commission. Hedge funds and other institutional investors own 0.14% of the company's stock.
TRADEMARK VIOLATION WARNING: This article was originally published by American Banking News and is the property of of American Banking News. If you are viewing this article on another publication, it was illegally copied and reposted in violation of United States and international copyright & trademark laws. The original version of this article can be read at https://www.americanbankingnews.com/2017/12/01/deutsche-lufthansa-dlaky-lifted-to-buy-at-deutsche-bank.html.
Deutsche Lufthansa Company Profile
Deutsche Lufthansa AG is an aviation company. The Company's segments include; Logistics; maintenance, repair and overhaul services (MRO), Catering and Other. Its Passenger Airline Group segment includes the airlines Lufthansa Passenger Airlines, SWISS, Austrian Airlines and Eurowings. Lufthansa Cargo is the logistics services provider in the Lufthansa Group.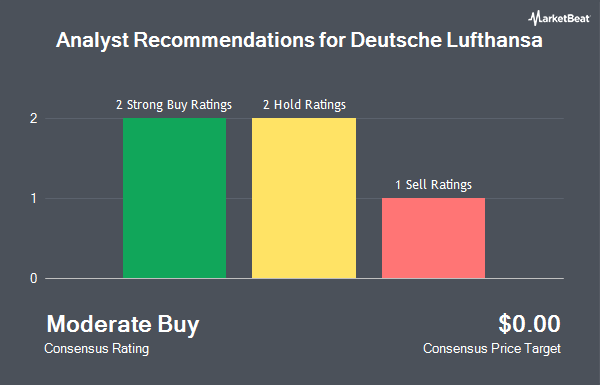 Receive News & Ratings for Deutsche Lufthansa AG Daily - Enter your email address below to receive a concise daily summary of the latest news and analysts' ratings for Deutsche Lufthansa AG and related companies with MarketBeat.com's FREE daily email newsletter.