Autobytel Inc. (NASDAQ:AUTO) insider Jeffrey H. Coats sold 19,590 shares of the firm's stock in a transaction on Thursday, November 30th. The stock was sold at an average price of $8.62, for a total value of $168,865.80. The sale was disclosed in a document filed with the Securities & Exchange Commission, which can be accessed through this hyperlink.
Autobytel Inc. (AUTO) traded up $0.27 on Friday, reaching $8.71. The company had a trading volume of 69,178 shares, compared to its average volume of 106,659. The firm has a market capitalization of $114.22, a PE ratio of 12.81 and a beta of 1.01. Autobytel Inc. has a 52-week low of $6.63 and a 52-week high of $15.28. The company has a current ratio of 2.99, a quick ratio of 2.99 and a debt-to-equity ratio of 0.07.
Autobytel (NASDAQ:AUTO) last released its quarterly earnings data on Thursday, November 2nd. The information services provider reported $0.18 earnings per share (EPS) for the quarter, beating analysts' consensus estimates of $0.10 by $0.08. The firm had revenue of $36.90 million during the quarter, compared to analysts' expectations of $36.84 million. Autobytel had a return on equity of 7.47% and a net margin of 1.51%. The business's revenue for the quarter was down 12.6% on a year-over-year basis. During the same quarter last year, the firm earned $0.49 earnings per share. research analysts forecast that Autobytel Inc. will post 0.49 earnings per share for the current year.
Several analysts have recently commented on AUTO shares.
ValuEngine
cut Autobytel from a "buy" rating to a "hold" rating in a research report on Friday, September 1st.
Zacks Investment Research
cut Autobytel from a "hold" rating to a "strong sell" rating in a research report on Monday, August 14th. B. Riley reissued a "buy" rating and set a $12.00 price objective on shares of Autobytel in a research report on Friday, November 3rd. TheStreet cut Autobytel from a "c" rating to a "d+" rating in a research report on Monday, October 9th. Finally, Barrington Research cut Autobytel from an "outperform" rating to a "market perform" rating in a research report on Friday, August 4th. One investment analyst has rated the stock with a hold rating and three have assigned a buy rating to the company. The stock presently has a consensus rating of "Buy" and a consensus price target of $10.25.
ILLEGAL ACTIVITY NOTICE: "Insider Selling: Autobytel Inc. (AUTO) Insider Sells 19,590 Shares of Stock" was first posted by American Banking News and is the property of of American Banking News. If you are accessing this piece on another publication, it was copied illegally and republished in violation of international copyright laws. The correct version of this piece can be viewed at https://www.americanbankingnews.com/2017/12/01/insider-selling-autobytel-inc-auto-insider-sells-19590-shares-of-stock.html.
Autobytel Company Profile
AutoWeb, Inc, formerly Autobytel Inc, is an automotive marketing services company that assists automotive retail dealers and automotive manufacturers market and sell new and used vehicles to consumers through the programs for online lead referrals, dealer marketing products and services, and online advertising programs and mobile products.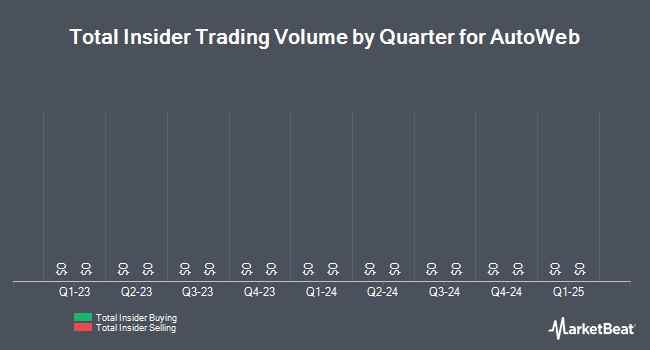 Receive News & Ratings for Autobytel Inc. Daily - Enter your email address below to receive a concise daily summary of the latest news and analysts' ratings for Autobytel Inc. and related companies with MarketBeat.com's FREE daily email newsletter.