Insider Selling: Tucows Inc. (TC) Director Sells 1,400 Shares of Stock
Tucows Inc. (TSE:TC) (NYSE:TCX) Director Allen Karp sold 1,400 shares of the company's stock in a transaction on Thursday, November 30th. The shares were sold at an average price of C$81.50, for a total value of C$114,100.00.
Shares of Tucows Inc. (TSE TC) traded up C$1.81 during midday trading on Friday, reaching C$81.67. The company's stock had a trading volume of 4,063 shares, compared to its average volume of 4,771. Tucows Inc. has a 52-week low of C$43.75 and a 52-week high of C$86.33.
COPYRIGHT VIOLATION WARNING: "Insider Selling: Tucows Inc. (TC) Director Sells 1,400 Shares of Stock" was posted by American Banking News and is the property of of American Banking News. If you are accessing this piece on another site, it was illegally stolen and republished in violation of U.S. & international copyright and trademark law. The correct version of this piece can be viewed at https://www.americanbankingnews.com/2017/12/01/insider-selling-tucows-inc-tc-director-sells-1400-shares-of-stock.html.
About Tucows
Tucows Inc is engaged in providing Internet services. The Company's segments include Network Access Services and Domain Services. The Network Access Services segment includes mobile, fixed high-speed Internet access services, Internet hosting and network consulting services. The Domain Services segment wholesale and retail domain name registration services, value added services and portfolio services.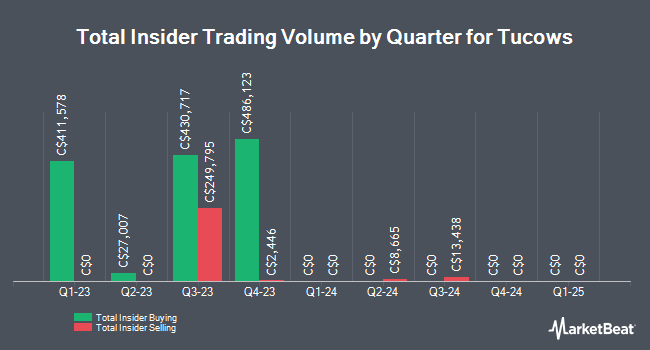 Receive News & Ratings for Tucows Inc. Daily - Enter your email address below to receive a concise daily summary of the latest news and analysts' ratings for Tucows Inc. and related companies with MarketBeat.com's FREE daily email newsletter.