Shares of Kirby Co. (NYSE:KEX) have received a consensus rating of "Hold" from the eight ratings firms that are currently covering the company, MarketBeat.com reports. One investment analyst has rated the stock with a sell rating, five have given a hold rating and two have assigned a buy rating to the company. The average twelve-month target price among brokers that have covered the stock in the last year is $75.50.
A number of equities research analysts have commented on KEX shares. Stifel Nicolaus reiterated a "hold" rating and issued a $67.00 price target on shares of Kirby in a research note on Friday, November 3rd. BidaskClub raised Kirby from a "strong sell" rating to a "sell" rating in a report on Saturday, August 26th. Finally, Jefferies Group reissued a "buy" rating and issued a $85.00 price objective on shares of Kirby in a report on Monday, October 16th.
Institutional investors and hedge funds have recently made changes to their positions in the company. Ladenburg Thalmann Financial Services Inc. raised its holdings in Kirby by 79.8% in the third quarter. Ladenburg Thalmann Financial Services Inc. now owns 1,931 shares of the shipping company's stock worth $127,000 after purchasing an additional 857 shares during the period. Verition Fund Management LLC acquired a new stake in shares of Kirby during the 2nd quarter worth about $204,000. Boothbay Fund Management LLC bought a new stake in shares of Kirby in the 3rd quarter valued at $209,000. Koch Industries Inc. bought a new stake in shares of Kirby in the 2nd quarter valued at $216,000. Finally, Cornerstone Capital Management Holdings LLC. acquired a new position in shares of Kirby during the 2nd quarter valued at $233,000. 96.59% of the stock is owned by institutional investors and hedge funds.
Kirby (
KEX
) opened at $67.50 on Friday. The stock has a market cap of $3,772.85, a P/E ratio of 29.95, a PEG ratio of 3.93 and a beta of 1.07. Kirby has a fifty-two week low of $59.25 and a fifty-two week high of $74.50. The company has a quick ratio of 1.23, a current ratio of 1.93 and a debt-to-equity ratio of 0.36.
Kirby (NYSE:KEX) last issued its quarterly earnings data on Wednesday, November 1st. The shipping company reported $0.52 earnings per share (EPS) for the quarter, topping the Thomson Reuters' consensus estimate of $0.44 by $0.08. Kirby had a return on equity of 4.48% and a net margin of 5.88%. The business had revenue of $541.30 million for the quarter, compared to analysts' expectations of $517.54 million. The company's revenue for the quarter was up 24.5% on a year-over-year basis. During the same period in the prior year, the firm earned $0.59 EPS. research analysts forecast that Kirby will post 2.01 EPS for the current fiscal year.
TRADEMARK VIOLATION WARNING: "Kirby Co. (KEX) Receives Average Rating of "Hold" from Brokerages" was reported by American Banking News and is the property of of American Banking News. If you are accessing this story on another domain, it was illegally stolen and republished in violation of U.S. and international trademark and copyright laws. The legal version of this story can be read at https://www.americanbankingnews.com/2017/12/01/kirby-co-kex-receives-average-rating-of-hold-from-brokerages.html.
About Kirby
Kirby Corporation is a domestic tank barge operator, transporting bulk liquid products throughout the Mississippi River System, on the Gulf Intracoastal Waterway, coastwise along all three United States coasts and in Alaska and Hawaii. The Company, through its subsidiaries, operates in two segments: Marine Transportation and Diesel Engine Services.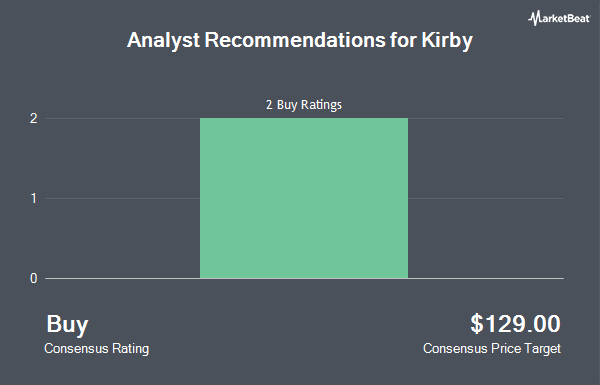 Receive News & Ratings for Kirby Co. Daily - Enter your email address below to receive a concise daily summary of the latest news and analysts' ratings for Kirby Co. and related companies with MarketBeat.com's FREE daily email newsletter.