Zumiez (NASDAQ:ZUMZ) issued its earnings results on Thursday. The apparel and footwear maker reported $0.48 earnings per share for the quarter, hitting the Zacks' consensus estimate of $0.48, Briefing.com reports. The business had revenue of $245.80 million during the quarter, compared to the consensus estimate of $244.50 million. Zumiez had a return on equity of 7.83% and a net margin of 2.78%. The firm's revenue for the quarter was up 11.0% on a year-over-year basis. During the same period in the previous year, the company posted $0.43 earnings per share. Zumiez updated its Q4 guidance to $0.78-0.84 EPS.
Shares of Zumiez (ZUMZ) opened at $21.80 on Friday. Zumiez has a fifty-two week low of $11.43 and a fifty-two week high of $26.55. The company has a market capitalization of $526.06, a price-to-earnings ratio of 20.72, a price-to-earnings-growth ratio of 1.05 and a beta of 1.33.
A number of brokerages have weighed in on ZUMZ. Robert W. Baird reiterated a "neutral" rating and issued a $17.00 target price on shares of Zumiez in a report on Tuesday, October 3rd. B. Riley reaffirmed a "buy" rating and set a $18.00 target price on shares of Zumiez in a research report on Wednesday, September 13th. BMO Capital Markets set a $16.00 target price on Zumiez and gave the company a "hold" rating in a research report on Tuesday, August 8th. BidaskClub raised Zumiez from a "sell" rating to a "hold" rating in a research report on Friday, August 25th. Finally, Zacks Investment Research raised Zumiez from a "hold" rating to a "buy" rating and set a $18.00 target price on the stock in a research report on Tuesday, September 12th. Seven investment analysts have rated the stock with a hold rating and two have assigned a buy rating to the company. The company has an average rating of "Hold" and a consensus target price of $18.75.
WARNING: "Zumiez (ZUMZ) Posts Quarterly Earnings Results, Hits Expectations" was published by American Banking News and is the sole property of of American Banking News. If you are reading this article on another publication, it was stolen and reposted in violation of United States & international copyright laws. The correct version of this article can be viewed at https://www.americanbankingnews.com/2017/12/01/zumiez-zumz-posts-quarterly-earnings-results-hits-expectations.html.
Zumiez Company Profile
Zumiez Inc, including its subsidiaries, is a specialty retailer of apparel, footwear, accessories and hardgoods for young men and women through the fashion, music, art and culture of action sports, streetwear and other lifestyles. The Company operates under the names Zumiez, Blue Tomato and Fast Times.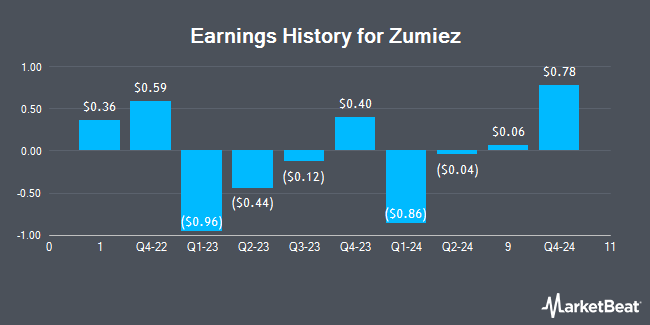 Receive News & Ratings for Zumiez Inc. Daily - Enter your email address below to receive a concise daily summary of the latest news and analysts' ratings for Zumiez Inc. and related companies with MarketBeat.com's FREE daily email newsletter.