County Bancorp Inc (ICBK) to Issue $0.06 Quarterly Dividend
County Bancorp Inc (NASDAQ:ICBK) declared a quarterly dividend on Tuesday, November 21st, NASDAQ reports. Shareholders of record on Friday, December 8th will be given a dividend of 0.06 per share by the financial services provider on Friday, December 22nd. This represents a $0.24 dividend on an annualized basis and a yield of 0.72%. The ex-dividend date is Thursday, December 7th.
County Bancorp (NASDAQ:ICBK) opened at $33.19 on Friday. The company has a debt-to-equity ratio of 1.09, a current ratio of 1.11 and a quick ratio of 1.11. County Bancorp has a 12 month low of $20.85 and a 12 month high of $35.89. The company has a market capitalization of $221.49 and a PE ratio of 18.85.
County Bancorp (NASDAQ:ICBK) last posted its quarterly earnings data on Friday, October 20th. The financial services provider reported $0.52 EPS for the quarter, topping the consensus estimate of $0.44 by $0.08. County Bancorp had a return on equity of 9.24% and a net margin of 19.80%. The firm had revenue of $12.05 million for the quarter, compared to the consensus estimate of $11.97 million. research analysts expect that County Bancorp will post 1.65 EPS for the current fiscal year.
In other County Bancorp news, CFO Glen L. Stiteley bought 1,260 shares of the business's stock in a transaction that occurred on Tuesday, October 24th. The stock was purchased at an average price of $30.00 per share, for a total transaction of $37,800.00. Following the completion of the transaction, the chief financial officer now owns 3,094 shares of the company's stock, valued at approximately $92,820. The transaction was disclosed in a legal filing with the Securities & Exchange Commission, which is accessible through
the SEC website
. Company insiders own 26.30% of the company's stock.
An institutional investor recently raised its position in County Bancorp stock. State Street Corp raised its position in shares of County Bancorp Inc (NASDAQ:ICBK) by 12.7% in the 2nd quarter, according to its most recent 13F filing with the Securities and Exchange Commission (SEC). The institutional investor owned 64,821 shares of the financial services provider's stock after buying an additional 7,323 shares during the quarter. State Street Corp owned about 0.98% of County Bancorp worth $1,557,000 as of its most recent SEC filing. Institutional investors own 27.61% of the company's stock.
ICBK has been the topic of several recent research reports. Zacks Investment Research raised County Bancorp from a "sell" rating to a "hold" rating in a research note on Wednesday, September 20th. Maxim Group reaffirmed a "buy" rating and issued a $33.00 price objective on shares of County Bancorp in a research note on Monday, October 23rd. Finally, ValuEngine downgraded County Bancorp from a "buy" rating to a "hold" rating in a research note on Friday.
ILLEGAL ACTIVITY NOTICE: "County Bancorp Inc (ICBK) to Issue $0.06 Quarterly Dividend" was posted by American Banking News and is owned by of American Banking News. If you are viewing this article on another domain, it was illegally stolen and reposted in violation of U.S. and international copyright & trademark law. The correct version of this article can be accessed at https://www.americanbankingnews.com/2017/12/02/county-bancorp-inc-icbk-to-issue-0-06-quarterly-dividend.html.
County Bancorp Company Profile
County Bancorp, Inc is a bank holding company. The Company's primary activities consist of holding the stock of its subsidiary bank, Investors Community Bank (the Bank), and providing banking and related business activities through the Bank and its other subsidiaries. It operates in the community banking segment.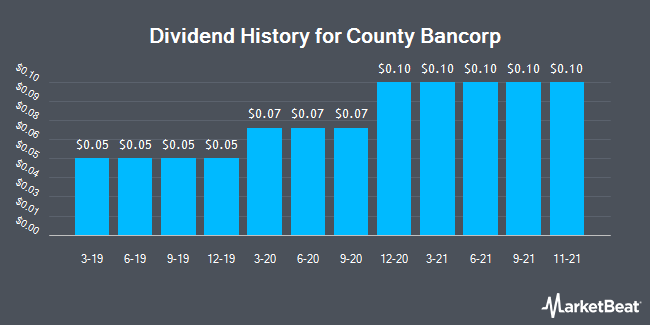 Receive News & Ratings for County Bancorp Inc Daily - Enter your email address below to receive a concise daily summary of the latest news and analysts' ratings for County Bancorp Inc and related companies with MarketBeat.com's FREE daily email newsletter.