CMC Markets Plc (LON:CMCX) has earned a consensus rating of "Hold" from the six analysts that are presently covering the company, MarketBeat Ratings reports. One research analyst has rated the stock with a sell recommendation, two have assigned a hold recommendation and three have given a buy recommendation to the company. The average 12-month price objective among analysts that have issued ratings on the stock in the last year is GBX 190 ($2.54).
Several equities research analysts recently weighed in on CMCX shares. Morgan Stanley upgraded CMC Markets to an "overweight" rating and increased their target price for the company from GBX 178 ($2.38) to GBX 180 ($2.41) in a report on Friday, September 1st. Shore Capital restated a "hold" rating on shares of CMC Markets in a report on Thursday, September 28th. Numis Securities restated a "sell" rating and set a GBX 100 ($1.34) target price on shares of CMC Markets in a report on Thursday, September 28th. Finally, Peel Hunt started coverage on CMC Markets in a report on Wednesday, November 8th. They set a "buy" rating and a GBX 205 ($2.75) target price for the company.
In other CMC Markets news, insider David Fineberg purchased 22,000 shares of the stock in a transaction on Friday, November 24th. The stock was acquired at an average price of GBX 177 ($2.37) per share, with a total value of £38,940 ($52,149.46). Also, insider Grant Foley purchased 190 shares of the stock in a transaction on Monday, November 6th. The shares were acquired at an average cost of GBX 158 ($2.12) per share, with a total value of £300.20 ($402.04). Insiders have acquired a total of 22,568 shares of company stock valued at $3,983,798 in the last ninety days.
Shares of CMC Markets (
CMCX
) opened at GBX 169 ($2.26) on Friday. CMC Markets has a fifty-two week low of GBX 90.95 ($1.22) and a fifty-two week high of GBX 190 ($2.54).
The firm also recently declared a dividend, which will be paid on Friday, December 22nd. Shareholders of record on Thursday, November 30th will be given a dividend of GBX 2.98 ($0.04) per share. This represents a yield of 1.7%. The ex-dividend date is Thursday, November 30th.
ILLEGAL ACTIVITY WARNING: "CMC Markets Plc (CMCX) Receives Average Rating of "Hold" from Brokerages" was originally posted by American Banking News and is the property of of American Banking News. If you are reading this article on another publication, it was illegally copied and republished in violation of United States & international trademark and copyright law. The legal version of this article can be read at https://www.americanbankingnews.com/2017/12/03/cmc-markets-plc-cmcx-receives-average-rating-of-hold-from-brokerages.html.
About CMC Markets
CMC Markets plc is a holding company. The Company is a provider of online and mobile trading servicing both retail and institutional clients. The Company enables clients to trade over 10,000 financial instruments, including indices, commodities, foreign exchange (FX) and equities through its trading platform.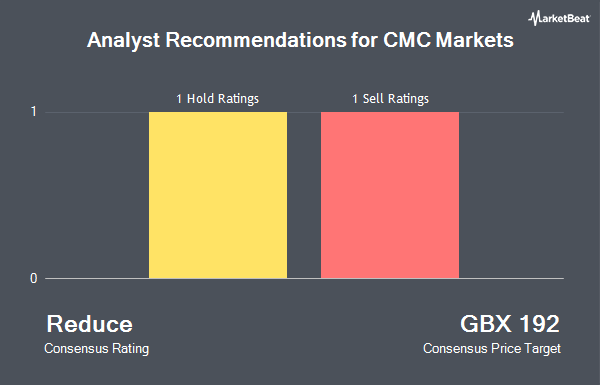 Receive News & Ratings for CMC Markets Plc Daily - Enter your email address below to receive a concise daily summary of the latest news and analysts' ratings for CMC Markets Plc and related companies with MarketBeat.com's FREE daily email newsletter.