Value Line (NASDAQ:VALU) is scheduled to be releasing its earnings data on Monday, December 11th.
Value Line (NASDAQ:VALU) last posted its quarterly earnings data on Wednesday, September 13th. The financial services provider reported $0.23 EPS for the quarter. The company had revenue of $8.91 million for the quarter. Value Line had a return on equity of 16.28% and a net margin of 17.80%.
Value Line (NASDAQ VALU) opened at $17.68 on Monday. The company has a market capitalization of $171.63, a P/E ratio of 27.20 and a beta of 1.05. Value Line has a 12 month low of $13.26 and a 12 month high of $22.75.
The firm also recently declared a quarterly dividend, which was paid on Friday, November 10th. Shareholders of record on Tuesday, October 31st were paid a $0.18 dividend. This represents a $0.72 annualized dividend and a yield of 4.07%. The ex-dividend date of this dividend was Monday, October 30th. Value Line's dividend payout ratio (DPR) is presently 110.77%.
COPYRIGHT VIOLATION WARNING: "Value Line (VALU) Scheduled to Post Earnings on Monday" was reported by American Banking News and is the property of of American Banking News. If you are accessing this article on another publication, it was copied illegally and republished in violation of US and international copyright and trademark legislation. The legal version of this article can be viewed at https://www.americanbankingnews.com/2017/12/04/value-line-valu-scheduled-to-post-earnings-on-monday.html.
Value Line Company Profile
Value Line, Inc (Value Line) is engaged in producing investment periodicals based on underlying research and making available copyright data, including ranking system and other information, to third parties for use in third-party managed and marketed investment products and for other purposes. The Company markets under brands, including Value Line, the Value Line logo, The Value Line Investment Survey, Smart Research, Smarter Investing and The Most Trusted Name in Investment Research.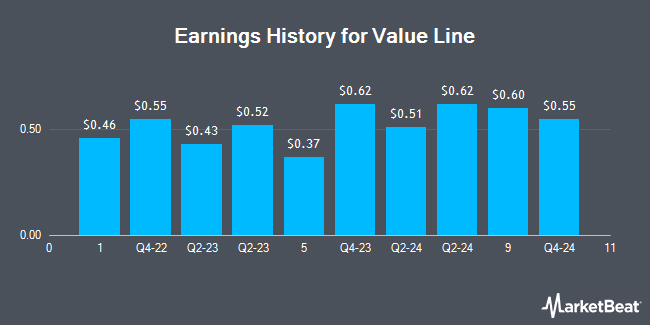 Receive News & Ratings for Value Line Inc. Daily - Enter your email address below to receive a concise daily summary of the latest news and analysts' ratings for Value Line Inc. and related companies with MarketBeat.com's FREE daily email newsletter.