AMREP (AXR) Set to Announce Quarterly Earnings on Tuesday
AMREP (NYSE:AXR) is set to announce its earnings results on Tuesday, December 12th.
AMREP (NYSE:AXR) last released its earnings results on Wednesday, September 13th. The business services provider reported $0.18 earnings per share for the quarter. AMREP had a return on equity of 1.06% and a net margin of 1.94%. The company had revenue of $11.33 million during the quarter.
Shares of AMREP (NYSE:AXR) opened at $6.82 on Tuesday. AMREP has a 52 week low of $5.17 and a 52 week high of $7.68. The firm has a market capitalization of $55.82, a PE ratio of 62.73 and a beta of 0.31.
ILLEGAL ACTIVITY NOTICE: "AMREP (AXR) Set to Announce Quarterly Earnings on Tuesday" was originally published by American Banking News and is the sole property of of American Banking News. If you are reading this news story on another publication, it was stolen and reposted in violation of international trademark and copyright legislation. The correct version of this news story can be read at https://www.americanbankingnews.com/2017/12/05/amrep-axr-set-to-announce-quarterly-earnings-on-tuesday.html.
About AMREP
Amrep Corporation is a holding company. The Company, through its subsidiaries, operates through two segments: real estate operations and fulfillment services. The Company conducts its real estate business through AMREP Southwest Inc (AMREP Southwest) and its subsidiaries, with its activities occurring primarily in the City of Rio Rancho and certain adjoining areas of Sandoval County, New Mexico.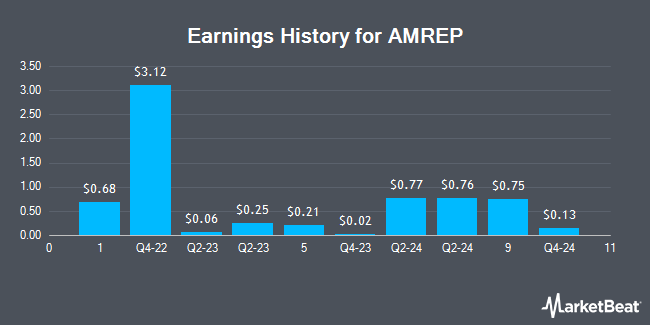 Receive News & Ratings for AMREP Corporation Daily - Enter your email address below to receive a concise daily summary of the latest news and analysts' ratings for AMREP Corporation and related companies with MarketBeat.com's FREE daily email newsletter.