Porter Bancorp, Inc. (PBIB) Major Shareholder Maria L. Bouvette Sells 1,000 Shares
Porter Bancorp, Inc. (NASDAQ:PBIB) major shareholder Maria L. Bouvette sold 1,000 shares of the stock in a transaction that occurred on Friday, December 1st. The shares were sold at an average price of $14.34, for a total value of $14,340.00. Following the completion of the sale, the insider now directly owns 542,623 shares of the company's stock, valued at approximately $7,781,213.82. The transaction was disclosed in a filing with the SEC, which is available at this hyperlink. Large shareholders that own at least 10% of a company's shares are required to disclose their sales and purchases with the SEC.
Porter Bancorp, Inc. (NASDAQ PBIB) traded up $0.07 on Tuesday, reaching $14.37. The company had a trading volume of 4,600 shares, compared to its average volume of 4,490. Porter Bancorp, Inc. has a twelve month low of $8.11 and a twelve month high of $15.55. The company has a current ratio of 0.83, a quick ratio of 0.83 and a debt-to-equity ratio of 1.28.
Porter Bancorp (NASDAQ:PBIB) last posted its quarterly earnings results on Wednesday, October 25th. The financial services provider reported $0.29 earnings per share for the quarter. Porter Bancorp had a negative return on equity of 4.42% and a negative net margin of 3.65%. The business had revenue of $8.97 million for the quarter.
An institutional investor recently bought a new position in Porter Bancorp stock. Emerald Mutual Fund Advisers Trust purchased a new stake in Porter Bancorp, Inc. (NASDAQ:PBIB) during the third quarter, according to the company in its most recent 13F filing with the Securities and Exchange Commission. The institutional investor purchased 31,217 shares of the financial services provider's stock, valued at approximately $356,000. Emerald Mutual Fund Advisers Trust owned 0.50% of Porter Bancorp at the end of the most recent quarter. 18.53% of the stock is owned by hedge funds and other institutional investors.
Separately, ValuEngine downgraded Porter Bancorp from a "buy" rating to a "hold" rating in a report on Monday, November 27th.
WARNING: This piece was first reported by American Banking News and is owned by of American Banking News. If you are reading this piece on another domain, it was illegally copied and reposted in violation of United States and international copyright and trademark legislation. The correct version of this piece can be accessed at https://www.americanbankingnews.com/2017/12/05/porter-bancorp-inc-pbib-major-shareholder-maria-l-bouvette-sells-1000-shares.html.
Porter Bancorp Company Profile
Porter Bancorp, Inc is a bank holding company. The Company operates through its subsidiary, PBI Bank (the Bank). The Bank is a community bank with a range of commercial and personal banking products. It offers retail and commercial deposit products. It offers drive-in banking facilities, automatic teller machines, night depository, personalized checks, credit cards, debit cards, Internet banking, mobile banking, treasury management services, remote deposit services, electronic funds transfers through automated clearing house services, domestic and foreign wire transfers, cash management, vault services, and loan and deposit sweep accounts.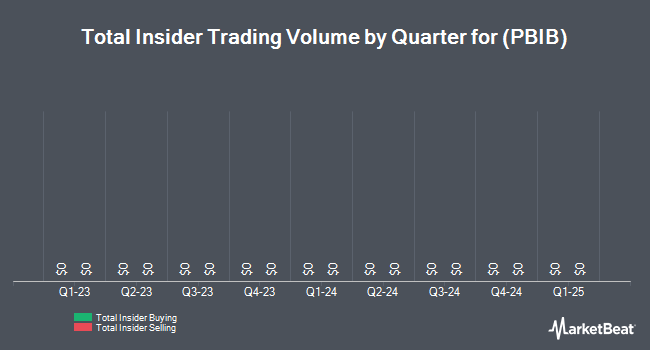 Receive News & Ratings for Porter Bancorp Inc. Daily - Enter your email address below to receive a concise daily summary of the latest news and analysts' ratings for Porter Bancorp Inc. and related companies with MarketBeat.com's FREE daily email newsletter.