CRH plc (CRH) Receives Consensus Rating of "Buy" from Brokerages
Shares of CRH plc (LON:CRH) have been assigned a consensus recommendation of "Buy" from the nine research firms that are currently covering the firm, MarketBeat.com reports. Three investment analysts have rated the stock with a hold rating and six have issued a buy rating on the company. The average 12 month price target among analysts that have issued ratings on the stock in the last year is GBX 3,124.14 ($42.05).
CRH has been the topic of a number of recent research reports. Societe Generale restated a "buy" rating and set a GBX 3,200 ($43.07) price target on shares of CRH in a report on Thursday, November 23rd. UBS set a GBX 3,100 ($41.72) price target on shares of CRH and gave the company a "buy" rating in a report on Tuesday, October 10th. Sanford C. Bernstein set a GBX 2,749 ($37.00) price target on shares of CRH and gave the company a "neutral" rating in a report on Tuesday, November 21st. Barclays restated an "overweight" rating on shares of CRH in a report on Wednesday, November 22nd. Finally, Berenberg Bank cut their price target on shares of CRH from GBX 3,460 ($46.57) to GBX 3,430 ($46.16) and set a "buy" rating on the stock in a report on Tuesday, August 29th.
CRH (LON:CRH) traded up GBX 1 ($0.01) during trading on Thursday, hitting GBX 2,580 ($34.72). 2,667,958 shares of the stock were exchanged, compared to its average volume of 1,860,000. CRH has a fifty-two week low of GBX 26.98 ($0.36) and a fifty-two week high of GBX 3,342 ($44.98).
TRADEMARK VIOLATION NOTICE: This story was first posted by American Banking News and is the property of of American Banking News. If you are reading this story on another website, it was illegally stolen and republished in violation of U.S. and international copyright & trademark legislation. The original version of this story can be viewed at https://www.americanbankingnews.com/2017/12/07/crh-plc-crh-receives-consensus-rating-of-buy-from-brokerages.html.
CRH Company Profile
CRH public limited company (CRH plc) is a building materials company. The Company's segments include Europe Heavyside, Europe Lightside, Europe Distribution, Americas Materials, Americas Products, Americas Distribution and Asia. Europe Heavyside segment is engaged in the manufacturing and supply of aggregates, asphalt, cement, readymixed and precast concrete and landscaping products.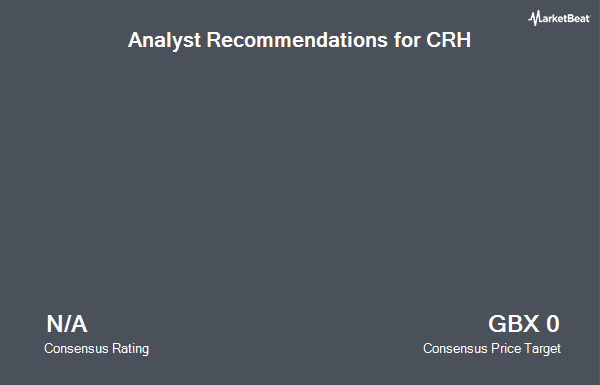 Receive News & Ratings for CRH plc Daily - Enter your email address below to receive a concise daily summary of the latest news and analysts' ratings for CRH plc and related companies with MarketBeat.com's FREE daily email newsletter.