FutureFuel Corp. Plans Quarterly Dividend of $0.06 (FF)
FutureFuel Corp. (NYSE:FF) declared a quarterly dividend on Thursday, December 7th, Wall Street Journal reports. Shareholders of record on Tuesday, September 4th will be given a dividend of 0.06 per share by the energy company on Tuesday, September 18th. This represents a $0.24 dividend on an annualized basis and a yield of 1.64%. The ex-dividend date is Friday, August 31st.
FutureFuel has decreased its dividend payment by an average of 18.3% annually over the last three years.
FutureFuel (NYSE:FF) traded up $0.02 during trading hours on Thursday, reaching $14.64. 44,200 shares of the company's stock were exchanged, compared to its average volume of 92,893. The firm has a market capitalization of $639.50, a PE ratio of 23.97 and a beta of 1.74. FutureFuel has a 52 week low of $12.68 and a 52 week high of $16.58.
Separately, TheStreet upgraded shares of FutureFuel from a "c+" rating to a "b-" rating in a research report on Friday, November 10th.
COPYRIGHT VIOLATION WARNING: This news story was originally reported by American Banking News and is owned by of American Banking News. If you are accessing this news story on another website, it was copied illegally and republished in violation of US and international trademark and copyright legislation. The original version of this news story can be accessed at https://www.americanbankingnews.com/2017/12/07/futurefuel-corp-plans-quarterly-dividend-of-0-06-ff.html.
FutureFuel Company Profile
FutureFuel Corp. is the holding company of FutureFuel Chemical Company. FutureFuel Chemical Company manufactures diversified chemical products, bio-based products consisting of biofuels, and bio-based specialty chemical products. FutureFuel Chemical Company conducts its operations through two segments: chemicals and biofuels.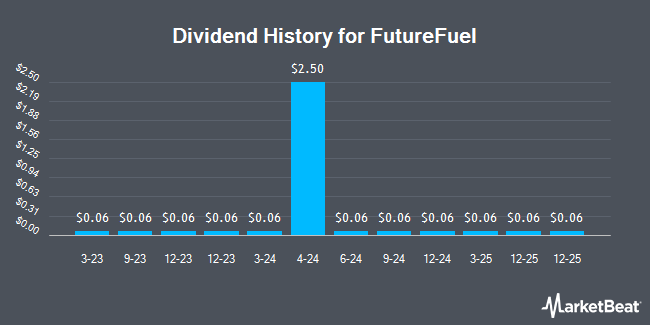 Receive News & Ratings for FutureFuel Corp. Daily - Enter your email address below to receive a concise daily summary of the latest news and analysts' ratings for FutureFuel Corp. and related companies with MarketBeat.com's FREE daily email newsletter.