Sun Hydraulics Corporation (SNHY) Declares $0.09 Quarterly Dividend
Sun Hydraulics Corporation (NASDAQ:SNHY) announced a quarterly dividend on Thursday, December 7th, Wall Street Journal reports. Investors of record on Friday, January 5th will be paid a dividend of 0.09 per share by the industrial products company on Saturday, January 20th. This represents a $0.36 dividend on an annualized basis and a yield of 0.62%. The ex-dividend date is Thursday, January 4th.
Shares of Sun Hydraulics (NASDAQ:SNHY) traded down $0.17 on Thursday, reaching $58.12. 80,300 shares of the company were exchanged, compared to its average volume of 102,276. Sun Hydraulics has a one year low of $34.17 and a one year high of $63.63. The company has a quick ratio of 1.96, a current ratio of 2.62 and a debt-to-equity ratio of 0.43. The company has a market cap of $1,578.11, a price-to-earnings ratio of 40.20 and a beta of 1.79.
Sun Hydraulics (NASDAQ:SNHY) last posted its quarterly earnings results on Monday, November 6th. The industrial products company reported $0.43 EPS for the quarter, beating the consensus estimate of $0.36 by $0.07. Sun Hydraulics had a net margin of 10.34% and a return on equity of 15.54%. The business had revenue of $88.00 million during the quarter, compared to analyst estimates of $80.66 million. During the same quarter in the previous year, the business posted $0.19 EPS. The company's quarterly revenue was up 94.7% compared to the same quarter last year. equities analysts predict that Sun Hydraulics will post 1.65 EPS for the current year.
Several equities research analysts have recently commented on the stock. BidaskClub lowered shares of Sun Hydraulics from a "strong-buy" rating to a "buy" rating in a report on Wednesday.
Zacks Investment Research
upgraded shares of Sun Hydraulics from a "hold" rating to a "strong-buy" rating and set a $63.00 price objective for the company in a research note on Tuesday, October 17th. Robert W. Baird lowered shares of Sun Hydraulics from an "outperform" rating to a "neutral" rating and boosted their price objective for the stock from $55.00 to $57.00 in a research note on Friday, October 13th. Finally, Sidoti started coverage on shares of Sun Hydraulics in a research note on Thursday, September 14th. They set a "neutral" rating for the company. Two analysts have rated the stock with a hold rating, one has issued a buy rating and one has assigned a strong buy rating to the company. The stock has an average rating of "Buy" and an average target price of $60.00.
TRADEMARK VIOLATION WARNING: "Sun Hydraulics Corporation (SNHY) Declares $0.09 Quarterly Dividend" was first posted by American Banking News and is the property of of American Banking News. If you are reading this article on another website, it was stolen and reposted in violation of U.S. and international copyright & trademark legislation. The legal version of this article can be accessed at https://www.americanbankingnews.com/2017/12/07/sun-hydraulics-corporation-snhy-declares-0-09-quarterly-dividend.html.
About Sun Hydraulics
Sun Hydraulics Corporation (Sun) develops and manufactures solutions for the hydraulics and electronics markets. It is engaged in power controls and vehicle technologies lines of business. The Company operates through two segments including hydraulics and electronics. Hydraulics market segment is engaged in manufacturing of screw-in hydraulic cartridge valves, electro-hydraulics, manifolds, and integrated package solutions for the worldwide industrial and mobile hydraulics markets operating under the brand Sun Hydraulics.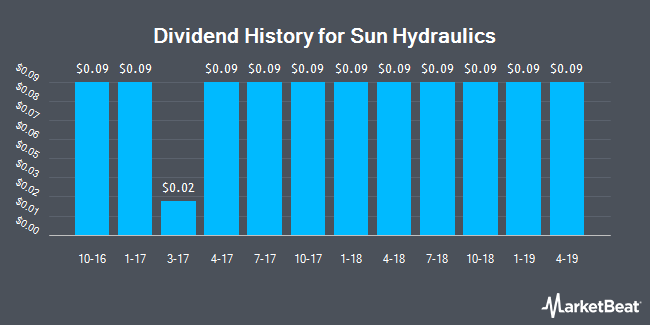 Receive News & Ratings for Sun Hydraulics Corporation Daily - Enter your email address below to receive a concise daily summary of the latest news and analysts' ratings for Sun Hydraulics Corporation and related companies with MarketBeat.com's FREE daily email newsletter.