Enerflex Ltd. (EFX) Given Average Rating of "Buy" by Brokerages
Enerflex Ltd. (TSE:EFX) has earned a consensus rating of "Buy" from the eight analysts that are covering the firm, Marketbeat.com reports. Four investment analysts have rated the stock with a buy recommendation and one has issued a strong buy recommendation on the company. The average 1 year price objective among brokers that have issued a report on the stock in the last year is C$23.31.
EFX has been the topic of a number of analyst reports. National Bank Financial lifted their price objective on Enerflex from C$18.50 to C$19.00 in a report on Monday, November 20th. TD Securities reaffirmed a "buy" rating and issued a C$24.00 price objective on shares of Enerflex in a report on Monday, November 13th. Royal Bank Of Canada lowered their price objective on Enerflex from C$24.00 to C$23.00 and set an "outperform" rating on the stock in a report on Monday, November 13th. Finally, BMO Capital Markets lowered their price objective on Enerflex from C$23.00 to C$21.00 in a report on Monday, August 14th.
In related news, Director Jackson Maureen Ellen Cormier purchased 5,000 shares of Enerflex stock in a transaction dated Tuesday, November 14th. The stock was bought at an average cost of C$15.35 per share, for a total transaction of C$76,750.00.
Shares of Enerflex (
TSE EFX
) traded up C$0.06 on Friday, reaching C$15.20. The company's stock had a trading volume of 474,818 shares, compared to its average volume of 203,008. Enerflex has a 12 month low of C$14.98 and a 12 month high of C$20.57.
The business also recently declared a quarterly dividend, which will be paid on Thursday, January 11th. Stockholders of record on Friday, November 24th will be given a dividend of $0.095 per share. This represents a $0.38 dividend on an annualized basis and a dividend yield of 2.50%. This is an increase from Enerflex's previous quarterly dividend of $0.09. The ex-dividend date is Wednesday, November 22nd. Enerflex's dividend payout ratio (DPR) is presently 121.43%.
COPYRIGHT VIOLATION NOTICE: "Enerflex Ltd. (EFX) Given Average Rating of "Buy" by Brokerages" was originally published by American Banking News and is the sole property of of American Banking News. If you are accessing this piece of content on another website, it was copied illegally and republished in violation of US & international copyright laws. The correct version of this piece of content can be viewed at https://www.americanbankingnews.com/2017/12/08/enerflex-ltd-efx-given-average-rating-of-buy-by-brokerages.html.
About Enerflex
Enerflex Ltd. is a Canada-based supplier of natural gas compression, oil and gas processing, refrigeration systems and electric power equipment. The Company's in‐house resources provide the capability to engineer, design, manufacture, construct, commission and service hydrocarbon handling systems.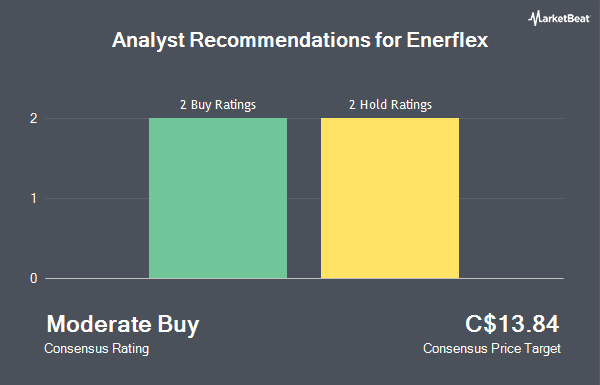 Receive News & Ratings for Enerflex Ltd. Daily - Enter your email address below to receive a concise daily summary of the latest news and analysts' ratings for Enerflex Ltd. and related companies with MarketBeat.com's FREE daily email newsletter.