Credit Suisse Group Reaffirms "Outperform" Rating for Tullow Oil (TLW)
Tullow Oil (LON:TLW)'s stock had its "outperform" rating restated by equities research analysts at Credit Suisse Group in a report released on Thursday. They presently have a GBX 240 ($3.23) target price on the stock. Credit Suisse Group's price objective suggests a potential upside of 31.75% from the company's current price.
Several other equities research analysts also recently issued reports on TLW. Jefferies Group restated a "hold" rating and issued a GBX 155 ($2.09) price target on shares of Tullow Oil in a report on Monday, September 25th. Royal Bank Of Canada upgraded Tullow Oil to an "outperform" rating and increased their price target for the stock from GBX 200 ($2.69) to GBX 260 ($3.50) in a report on Tuesday, September 26th. Stifel Nicolaus upgraded Tullow Oil to a "hold" rating and set a GBX 180 ($2.42) price target for the company in a report on Sunday, September 24th. Citigroup restated a "neutral" rating and issued a GBX 200 ($2.69) price target on shares of Tullow Oil in a report on Monday, October 16th. Finally, Deutsche Bank increased their price target on Tullow Oil from GBX 200 ($2.69) to GBX 210 ($2.83) and gave the stock a "buy" rating in a report on Friday, October 13th. Two analysts have rated the stock with a sell rating, seven have issued a hold rating and ten have issued a buy rating to the company's stock. The company has an average rating of "Hold" and an average target price of GBX 229.20 ($3.08).
Shares of Tullow Oil (TLW) traded up GBX 2.66 ($0.04) during trading on Thursday, hitting GBX 182.16 ($2.45). The company's stock had a trading volume of 6,592,303 shares, compared to its average volume of 13,180,000. Tullow Oil has a 12 month low of GBX 142.30 ($1.92) and a 12 month high of GBX 299.86 ($4.04).
In other news, insider Les Wood acquired 299 shares of the firm's stock in a transaction that occurred on Thursday, October 5th. The stock was acquired at an average cost of GBX 151 ($2.03) per share, for a total transaction of £451.49 ($607.66).
TRADEMARK VIOLATION NOTICE: This article was first published by American Banking News and is the property of of American Banking News. If you are accessing this article on another publication, it was illegally stolen and republished in violation of US and international trademark and copyright legislation. The original version of this article can be viewed at https://www.americanbankingnews.com/2017/12/09/credit-suisse-group-reaffirms-outperform-rating-for-tullow-oil-tlw.html.
Tullow Oil Company Profile
Tullow Oil plc is an independent oil and gas exploration and production company. The Company's primary activity is the discovery and production of oil and gas. Its segments include West Africa; East Africa, and New Ventures. The West Africa Business focuses on its production and development projects in West Africa and Europe.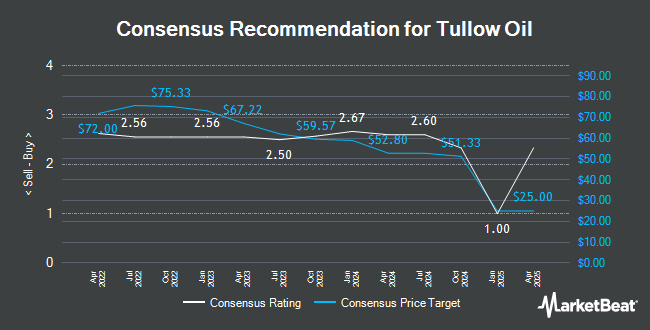 Receive News & Ratings for Tullow Oil plc Daily - Enter your email address below to receive a concise daily summary of the latest news and analysts' ratings for Tullow Oil plc and related companies with MarketBeat.com's FREE daily email newsletter.