Severn Trent (SVT) Price Target Cut to GBX 2,200
Severn Trent (LON:SVT) had its price objective cut by research analysts at Deutsche Bank from GBX 2,250 ($30.28) to GBX 2,200 ($29.61) in a report issued on Wednesday. The firm presently has a "hold" rating on the stock. Deutsche Bank's price target points to a potential upside of 6.49% from the company's previous close.
SVT has been the topic of a number of other research reports. Credit Suisse Group reissued a "neutral" rating and set a GBX 2,230 ($30.01) price objective on shares of Severn Trent in a research note on Thursday, November 2nd. raised Severn Trent to a "buy" rating and boosted their price objective for the stock from GBX 2,160 ($29.07) to GBX 2,300 ($30.96) in a research note on Monday, November 6th. J P Morgan Chase & Co reissued a "neutral" rating and set a GBX 2,500 ($33.65) price objective on shares of Severn Trent in a research note on Thursday, October 26th. Macquarie boosted their price objective on Severn Trent from GBX 2,570 ($34.59) to GBX 2,575 ($34.66) and gave the stock an "outperform" rating in a research note on Thursday, August 31st. Finally, Barclays reissued an "equal weight" rating on shares of Severn Trent in a research note on Tuesday, November 14th. Five research analysts have rated the stock with a hold rating and four have assigned a buy rating to the company. Severn Trent has an average rating of "Hold" and an average target price of GBX 2,388.75 ($32.15).
Shares of Severn Trent (LON SVT) traded down GBX 8.06 ($0.11) on Wednesday, hitting GBX 2,065.94 ($27.81). The company had a trading volume of 634,092 shares, compared to its average volume of 847,357. Severn Trent has a 52-week low of GBX 2,041.50 ($27.48) and a 52-week high of GBX 2,575 ($34.66).
Severn Trent (LON:SVT) last issued its quarterly earnings results on Thursday, November 23rd. The company reported GBX 65.90 ($0.89) EPS for the quarter, missing the Thomson Reuters' consensus estimate of GBX 66 ($0.89) by GBX (0.10) ($0.00). Severn Trent had a return on equity of 31.14% and a net margin of 17.34%. The firm had revenue of £850.40 million for the quarter.
ILLEGAL ACTIVITY WARNING: This story was originally reported by American Banking News and is owned by of American Banking News. If you are accessing this story on another site, it was illegally stolen and republished in violation of U.S. & international copyright and trademark legislation. The original version of this story can be read at https://www.americanbankingnews.com/2017/12/10/severn-trent-svt-price-target-cut-to-gbx-2200.html.
About Severn Trent
Severn Trent Plc treats and provides water and removes wastewater in the United Kingdom and internationally. The Company provides clean water and wastewater services through its businesses, Severn Trent Water and Severn Trent Business Services. It operates through two segments: Regulated Water and Waste Water, and Business Services.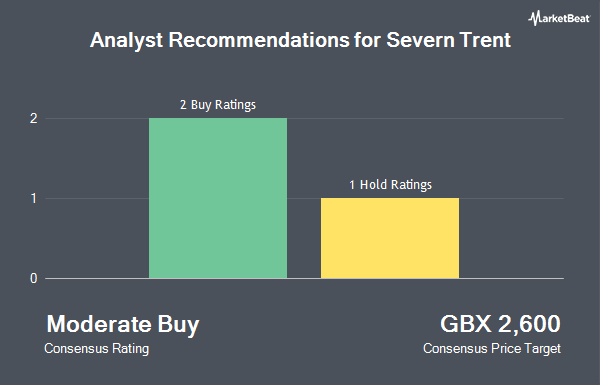 Receive News & Ratings for Severn Trent Plc Daily - Enter your email address below to receive a concise daily summary of the latest news and analysts' ratings for Severn Trent Plc and related companies with MarketBeat.com's FREE daily email newsletter.