Allianz (OTCMKTS:AZSEY) was upgraded by stock analysts at Barclays from an "underweight" rating to a "hold" rating in a research report issued on Monday.
AZSEY has been the subject of several other research reports. ValuEngine raised Allianz from a "buy" rating to a "strong-buy" rating in a research note on Tuesday, September 26th. J P Morgan Chase & Co reaffirmed a "buy" rating on shares of Allianz in a research note on Tuesday, August 22nd. Citigroup restated a "neutral" rating on shares of Allianz in a report on Monday, November 13th. Royal Bank of Canada reiterated a "neutral" rating on shares of Allianz in a research note on Monday, November 6th. Finally, DZ Bank reissued a "buy" rating on shares of Allianz in a research report on Wednesday, November 1st. Seven analysts have rated the stock with a hold rating, five have given a buy rating and two have given a strong buy rating to the company's stock. Allianz has an average rating of "Buy" and a consensus target price of $26.00.
Allianz (OTCMKTS AZSEY) traded down $0.13 during trading hours on Monday, reaching $23.29. 123,760 shares of the company were exchanged, compared to its average volume of 122,306. Allianz has a 1 year low of $16.11 and a 1 year high of $23.83. The stock has a market cap of $105,234.27, a price-to-earnings ratio of 13.45 and a beta of 1.11.
ILLEGAL ACTIVITY WARNING: This article was reported by American Banking News and is the property of of American Banking News. If you are reading this article on another domain, it was copied illegally and republished in violation of United States and international trademark and copyright law. The correct version of this article can be read at https://www.americanbankingnews.com/2017/12/11/barclays-upgrades-allianz-azsey-to-hold.html.
About Allianz
Allianz SE is a financial service company. The Company is the holding company of the Allianz Group (Allianz SE and its subsidiaries). The Company's segments include Property-Casualty, Life/Health, Asset Management, and Corporate and Other. The Company provides a range of reinsurance coverage, primarily to Allianz insurance entities, as well as to third-party customers.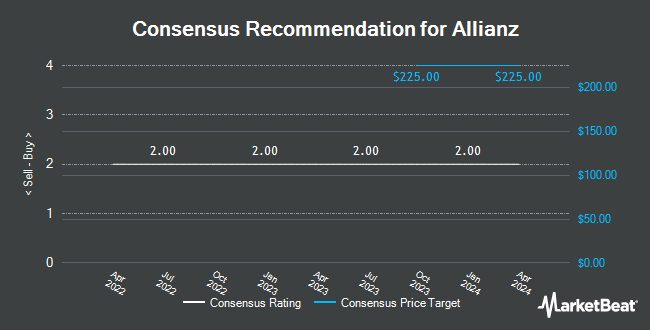 Receive News & Ratings for Allianz SE Daily - Enter your email address below to receive a concise daily summary of the latest news and analysts' ratings for Allianz SE and related companies with MarketBeat.com's FREE daily email newsletter.