Cobham (LON:COB)'s stock had its "sell" rating reissued by equities researchers at Goldman Sachs Group in a note issued to investors on Monday.
COB has been the subject of several other research reports. Liberum Capital reissued a "hold" rating and issued a GBX 140 ($1.88) price objective on shares of Cobham in a research note on Tuesday, September 26th. J P Morgan Chase & Co reissued a "neutral" rating and issued a GBX 145 ($1.95) price objective on shares of Cobham in a research note on Thursday, November 16th. Finally, Deutsche Bank increased their price objective on shares of Cobham from GBX 115 ($1.55) to GBX 120 ($1.62) and gave the company a "hold" rating in a research note on Thursday, August 31st. Two equities research analysts have rated the stock with a sell rating, nine have given a hold rating and two have issued a buy rating to the stock. Cobham has an average rating of "Hold" and a consensus price target of GBX 131.38 ($1.77).
Shares of Cobham (LON:COB) traded up GBX 0.75 ($0.01) during trading hours on Monday, reaching GBX 122.75 ($1.65). 2,452,208 shares of the company traded hands, compared to its average volume of 5,820,000. Cobham has a fifty-two week low of GBX 89.07 ($1.20) and a fifty-two week high of GBX 153.03 ($2.06).
In other Cobham news, insider John McAdam acquired 5,000 shares of Cobham stock in a transaction dated Monday, October 9th. The stock was purchased at an average cost of GBX 148 ($1.99) per share, for a total transaction of £7,400 ($9,959.62).
ILLEGAL ACTIVITY WARNING: "Goldman Sachs Group Reiterates "Sell" Rating for Cobham (COB)" was originally reported by American Banking News and is the property of of American Banking News. If you are accessing this news story on another website, it was illegally copied and republished in violation of US & international copyright & trademark law. The legal version of this news story can be read at https://www.americanbankingnews.com/2017/12/11/goldman-sachs-group-reiterates-sell-rating-for-cobham-cob.html.
About Cobham
Cobham plc is a technology and services provider in commercial and defense and security markets. It operates in four segments. The Communications and Connectivity segment provides equipment and solutions to enable connectivity across a range of environments in aerospace, avionics, satellite and radio, wireless and mobile connectivity markets.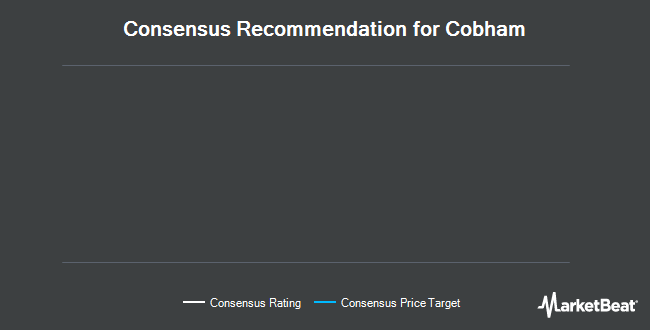 Receive News & Ratings for Cobham plc Daily - Enter your email address below to receive a concise daily summary of the latest news and analysts' ratings for Cobham plc and related companies with MarketBeat.com's FREE daily email newsletter.