GlaxoSmithKline plc (LON:GSK) insider Dominic Redfern acquired 9 shares of GlaxoSmithKline stock in a transaction on Monday, December 11th. The stock was acquired at an average cost of GBX 1,302 ($17.52) per share, for a total transaction of £117.18 ($157.71).
GlaxoSmithKline plc (LON:GSK) traded up GBX 11.50 ($0.15) during midday trading on Tuesday, reaching GBX 1,314.50 ($17.69). The company had a trading volume of 9,229,734 shares, compared to its average volume of 10,220,000. GlaxoSmithKline plc has a fifty-two week low of GBX 1,270 ($17.09) and a fifty-two week high of GBX 1,724.50 ($23.21).
GlaxoSmithKline (LON:GSK) last released its quarterly earnings data on Wednesday, October 25th. The company reported GBX 32.50 ($0.44) EPS for the quarter, beating analysts' consensus estimates of GBX 31.80 ($0.43) by GBX 0.70 ($0.01). The business had revenue of GBX 784.30 billion during the quarter. GlaxoSmithKline had a return on equity of 461.88% and a net margin of 17.79%.
The business also recently disclosed a dividend, which will be paid on Thursday, January 11th. Investors of record on Thursday, November 9th will be issued a GBX 19 ($0.26) dividend. The ex-dividend date of this dividend is Thursday, November 9th. This represents a yield of 1.41%.
A number of research firms have commented on GSK. Shore Capital reissued a "hold" rating on shares of GlaxoSmithKline in a research note on Monday, October 23rd. J P Morgan Chase & Co restated a "neutral" rating and set a GBX 1,570 ($21.13) target price on shares of GlaxoSmithKline in a research report on Monday, October 23rd. Beaufort Securities restated a "buy" rating and set a GBX 1,800 ($24.23) target price on shares of GlaxoSmithKline in a research report on Monday, October 23rd. UBS set a GBX 1,600 ($21.53) target price on GlaxoSmithKline and gave the stock a "neutral" rating in a research report on Monday, October 23rd. Finally, Liberum Capital dropped their target price on GlaxoSmithKline from GBX 1,900 ($25.57) to GBX 1,760 ($23.69) and set a "buy" rating for the company in a research report on Wednesday, October 4th. Three research analysts have rated the stock with a sell rating, eleven have given a hold rating and eight have assigned a buy rating to the company's stock. GlaxoSmithKline has an average rating of "Hold" and an average target price of GBX 1,577.14 ($21.23).
TRADEMARK VIOLATION NOTICE: "GlaxoSmithKline plc (GSK) Insider Buys £117.18 in Stock" was first published by American Banking News and is owned by of American Banking News. If you are reading this news story on another website, it was stolen and reposted in violation of U.S. and international trademark and copyright law. The legal version of this news story can be read at https://www.americanbankingnews.com/2017/12/12/glaxosmithkline-plc-gsk-insider-buys-117-18-in-stock.html.
GlaxoSmithKline Company Profile
GlaxoSmithKline plc is a global healthcare company. The Company operates through three segments: Pharmaceuticals, Vaccines and Consumer Healthcare. The Company focuses on its research across six areas: Respiratory diseases, human immunodeficiency virus (HIV)/infectious diseases, Vaccines, Immuno-inflammation, Oncology and Rare diseases.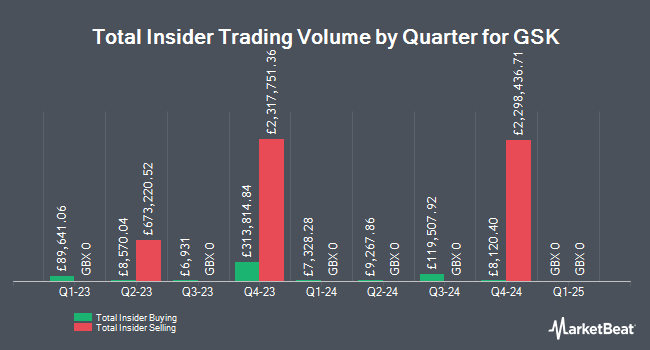 Receive News & Ratings for GlaxoSmithKline Daily - Enter your email address below to receive a concise daily summary of the latest news and analysts' ratings for GlaxoSmithKline and related companies with MarketBeat.com's FREE daily email newsletter.