Renesola (NYSE:SOL) is set to issue its quarterly earnings data before the market opens on Tuesday, December 19th. Analysts expect the company to announce earnings of $0.05 per share for the quarter.
Renesola (NYSE:SOL) last released its quarterly earnings results on Wednesday, September 27th. The semiconductor company reported ($1.57) earnings per share for the quarter, missing the consensus estimate of ($0.76) by ($0.81). Renesola had a negative return on equity of 187.64% and a negative net margin of 13.84%. The company had revenue of $151.63 million for the quarter, compared to analysts' expectations of $180.70 million. On average, analysts expect Renesola to post $-3 EPS for the current fiscal year and $0 EPS for the next fiscal year.
Shares of Renesola (NYSE:SOL) opened at $3.04 on Tuesday. Renesola has a fifty-two week low of $2.12 and a fifty-two week high of $3.79. The company has a current ratio of 0.51, a quick ratio of 0.42 and a debt-to-equity ratio of 2.06.
Separately, Roth Capital raised Renesola from a "sell" rating to a "neutral" rating and set a $3.00 target price on the stock in a research report on Monday, October 16th.
COPYRIGHT VIOLATION NOTICE: This story was first published by American Banking News and is owned by of American Banking News. If you are reading this story on another publication, it was illegally copied and reposted in violation of international trademark and copyright law. The legal version of this story can be viewed at https://www.americanbankingnews.com/2017/12/12/renesola-sol-to-release-quarterly-earnings-on-tuesday.html.
About Renesola
ReneSola Ltd is a holding company. The Company is a brand and technology provider of energy-efficient products based in China. The Company's segments include solar power projects. The solar power projects segment involves sales of solar power projects and electricity generation revenue of certain project assets it owns and operates.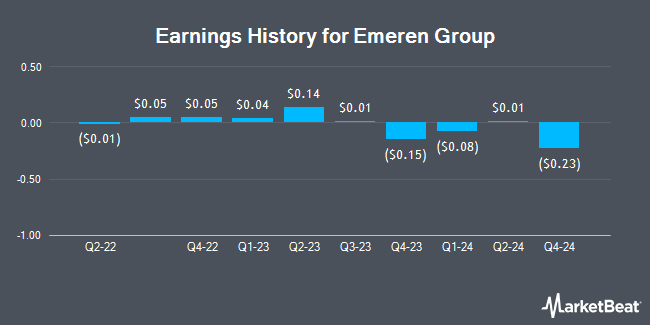 Receive News & Ratings for Renesola Ltd. Daily - Enter your email address below to receive a concise daily summary of the latest news and analysts' ratings for Renesola Ltd. and related companies with MarketBeat.com's FREE daily email newsletter.