New Gold Inc. (TSE:NGD) (ARCA:NGD) – Analysts at Desjardins issued their Q1 2019 earnings per share estimates for shares of New Gold in a note issued to investors on Monday. Desjardins analyst J. Wolfson anticipates that the company will post earnings per share of $0.04 for the quarter. Desjardins currently has a "Sell" rating on the stock. Desjardins also issued estimates for New Gold's Q2 2019 earnings at $0.04 EPS and Q3 2019 earnings at $0.04 EPS.
Several other equities research analysts also recently weighed in on the stock. Canaccord Genuity boosted their target price on shares of New Gold from C$4.25 to C$4.75 in a research report on Friday, September 29th. Scotiabank raised shares of New Gold to a "sector perform" rating and set a C$5.00 price objective for the company in a research report on Friday, September 29th. Finally, Eight Capital reaffirmed a "buy" rating on shares of New Gold in a research report on Thursday, November 16th. Four investment analysts have rated the stock with a sell rating, three have assigned a hold rating and four have given a buy rating to the company's stock. The company presently has an average rating of "Hold" and an average price target of C$5.00.
New Gold (
TSE:NGD
) traded down C$0.08 during trading hours on Thursday, hitting C$3.76. 991,976 shares of the company traded hands, compared to its average volume of 1,490,847. New Gold has a 1-year low of C$3.11 and a 1-year high of C$5.79.
In related news, Director James Estey sold 28,000 shares of the business's stock in a transaction that occurred on Friday, September 15th. The shares were sold at an average price of C$4.77, for a total value of C$133,560.00.
ILLEGAL ACTIVITY NOTICE: "Desjardins Comments on New Gold Inc.'s Q1 2019 Earnings (NGD)" was published by American Banking News and is the property of of American Banking News. If you are accessing this article on another website, it was illegally copied and republished in violation of United States and international trademark and copyright law. The correct version of this article can be accessed at https://www.americanbankingnews.com/2017/12/14/desjardins-comments-on-new-gold-inc-s-q1-2019-earnings-ngd.html.
About New Gold
New Gold Inc is an intermediate gold mining company. The Company is engaged in the development and operation of mineral properties. Its segments include New Afton, Mesquite, Peak Mines, Cerro San Pedro, Corporate and Other. It has operating mines in Canada, the United States, Australia and Mexico; development projects in Canada, and a stream on gold production from a development property in Chile.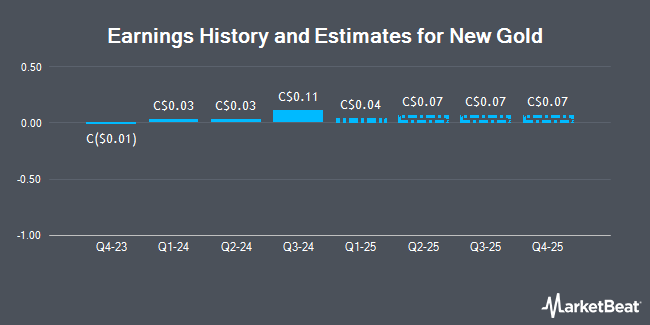 Receive News & Ratings for New Gold Daily - Enter your email address below to receive a concise daily summary of the latest news and analysts' ratings for New Gold and related companies with MarketBeat.com's FREE daily email newsletter.