Commercial National Financial Corp (CNAF) Declares None Dividend of $0.26
Commercial National Financial Corp (OTCMKTS:CNAF) declared a None dividend on Thursday, December 14th, Zacks reports. Stockholders of record on Tuesday, December 26th will be given a dividend of 0.26 per share by the bank on Friday, December 29th. The ex-dividend date is Friday, December 22nd.
Commercial National Financial (OTCMKTS:CNAF) traded down $0.02 during trading on Friday, reaching $21.70. The company's stock had a trading volume of 5,444 shares, compared to its average volume of 1,269. Commercial National Financial has a twelve month low of $20.15 and a twelve month high of $22.92. The stock has a market cap of $62.26, a P/E ratio of 15.43 and a beta of 0.30.
Commercial National Financial (OTCMKTS:CNAF) last released its quarterly earnings results on Wednesday, October 25th. The bank reported $0.41 earnings per share for the quarter. The business had revenue of $4.52 million during the quarter.
Separately,
ValuEngine
upgraded Commercial National Financial from a "hold" rating to a "buy" rating in a research report on Friday, September 1st.
TRADEMARK VIOLATION NOTICE: "Commercial National Financial Corp (CNAF) Declares None Dividend of $0.26" was originally published by American Banking News and is owned by of American Banking News. If you are accessing this story on another website, it was illegally copied and republished in violation of United States and international copyright laws. The correct version of this story can be viewed at https://www.americanbankingnews.com/2017/12/15/commercial-national-financial-corp-cnaf-declares-none-dividend-of-0-26.html.
Commercial National Financial Company Profile
Commercial National Financial Corporation is the bank holding company of Commercial Bank & Trust of PA (the Bank). The Bank's primary business consists of taking deposits and granting loans to customers who generally do business in the area of Westmoreland County, Pennsylvania. The Bank offers a range of banking services, including extending credit, providing deposit services, marketing non-deposit investments and offering financial counseling.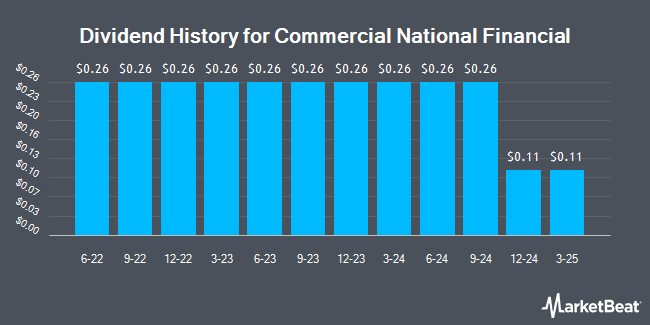 Receive News & Ratings for Commercial National Financial Daily - Enter your email address below to receive a concise daily summary of the latest news and analysts' ratings for Commercial National Financial and related companies with MarketBeat.com's FREE daily email newsletter.