AMEN Properties Inc. to Issue Quarterly Dividend of $10.00 (AMEN)
AMEN Properties Inc. (OTCMKTS:AMEN) declared a quarterly dividend on Monday, December 11th, Zacks reports. Stockholders of record on Friday, December 22nd will be paid a dividend of 10.00 per share by the technology company on Friday, December 29th. This represents a $40.00 dividend on an annualized basis and a dividend yield of 8.08%. The ex-dividend date is Thursday, December 21st.
Shares of AMEN Properties (OTCMKTS:AMEN) remained flat at $$495.00 during trading hours on Friday. AMEN Properties has a 12-month low of $370.00 and a 12-month high of $540.00. The stock has a market cap of $26.31, a PE ratio of 8.15 and a beta of -0.23.
AMEN Properties (OTCMKTS:AMEN) last announced its quarterly earnings data on Tuesday, September 12th. The technology company reported $0.92 earnings per share (EPS) for the quarter. AMEN Properties had a return on equity of 21.47% and a net margin of 133.43%. The firm had revenue of $0.61 million for the quarter.
COPYRIGHT VIOLATION WARNING: This report was first reported by American Banking News and is the sole property of of American Banking News. If you are reading this report on another publication, it was illegally copied and reposted in violation of United States and international copyright laws. The original version of this report can be viewed at https://www.americanbankingnews.com/2017/12/16/amen-properties-inc-to-issue-quarterly-dividend-of-10-00-amen.html.
AMEN Properties Company Profile
AMEN Properties, Inc owns a portfolio of properties, including real estate and oil and gas interests. The Company has investments in real estate and SFF Royalty, LLC. The Company also holds interest in SFF Production, LLC. The Company holds interest in HPQ Acquisition, LLC (HPG), which is a real estate company that owns commercial properties located in Midland, Texas.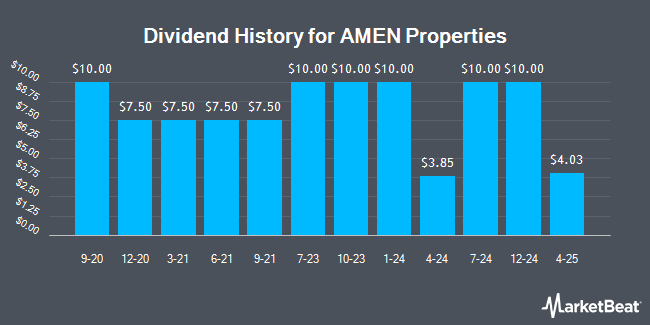 Receive News & Ratings for AMEN Properties Daily - Enter your email address below to receive a concise daily summary of the latest news and analysts' ratings for AMEN Properties and related companies with MarketBeat.com's FREE daily email newsletter.