Kion Group (FRA:KGX) received a €85.00 ($101.19) target price from analysts at Berenberg Bank in a note issued to investors on Friday. The brokerage currently has a "buy" rating on the stock. Berenberg Bank's target price indicates a potential upside of 15.43% from the stock's previous close.
A number of other research firms have also recently commented on KGX. Deutsche Bank set a €78.00 ($92.86) target price on Kion Group and gave the company a "buy" rating in a research report on Monday, December 4th. Citigroup reiterated a "buy" rating on shares of Kion Group in a report on Monday, December 4th. set a €72.00 ($85.71) price objective on Kion Group and gave the stock a "neutral" rating in a report on Monday, November 6th. Morgan Stanley set a €75.00 ($89.29) price objective on Kion Group and gave the stock a "buy" rating in a report on Wednesday, December 13th. Finally, UBS set a €66.00 ($78.57) price objective on Kion Group and gave the stock a "neutral" rating in a report on Tuesday, November 28th. One research analyst has rated the stock with a sell rating, six have issued a hold rating and ten have assigned a buy rating to the stock. The company has an average rating of "Buy" and an average target price of €76.03 ($90.51).
Shares of Kion Group (KGX) traded up €0.93 ($1.11) during trading hours on Friday, hitting €73.64 ($87.67). 344,452 shares of the stock were exchanged. Kion Group has a 1-year low of €50.49 ($60.11) and a 1-year high of €81.82 ($97.40). The stock has a market capitalization of $8,280.00 and a PE ratio of 26.30.
COPYRIGHT VIOLATION WARNING: "Kion Group (KGX) PT Set at €85.00 by Berenberg Bank" was posted by American Banking News and is the sole property of of American Banking News. If you are viewing this piece of content on another publication, it was illegally copied and reposted in violation of United States & international copyright laws. The original version of this piece of content can be read at https://www.americanbankingnews.com/2017/12/22/kion-group-kgx-pt-set-at-85-00-by-berenberg-bank.html.
Kion Group Company Profile
KION GROUP AG provides supply chain solutions worldwide. It operates through three segments: Industrial Trucks and Services, Supply Chain Solutions, and Corporate Services. The company provides diesel and LPG gas forklift trucks, electric forklift trucks, warehouse handling equipment, platform trucks and tractors, and used trucks; Ad hoc services and spare parts; RFID, racking, automation, transport control, and stock management systems, as well as IT and logistics, and fleet data management solutions; and financing and leasing services, as well as truck rental services.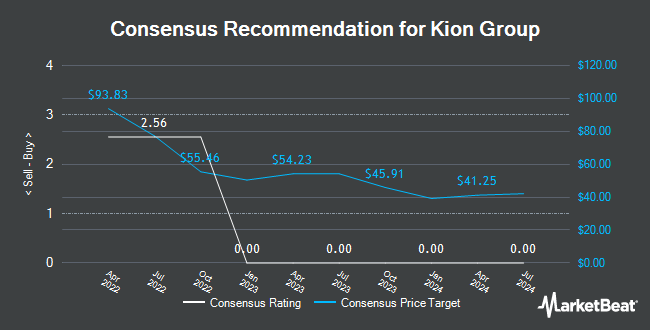 Receive News & Ratings for Kion Group Daily - Enter your email address below to receive a concise daily summary of the latest news and analysts' ratings for Kion Group and related companies with MarketBeat.com's FREE daily email newsletter.