High Arctic Energy Services, Inc. (TSE:HWO) announced a monthly dividend on Monday, December 18th, Zacks reports. Shareholders of record on Friday, December 29th will be given a dividend of 0.016 per share on Friday, January 12th. This represents a $0.19 dividend on an annualized basis and a yield of 5.04%. The ex-dividend date of this dividend is Thursday, December 28th.
High Arctic Energy Services (TSE:HWO) traded up C$0.09 on Friday, reaching C$3.81. The company's stock had a trading volume of 146,400 shares, compared to its average volume of 93,208. The firm has a market cap of $203.27, a price-to-earnings ratio of 8.47 and a beta of 0.98. High Arctic Energy Services has a 12-month low of C$3.61 and a 12-month high of C$6.27.
Separately, National Bank Financial decreased their price objective on High Arctic Energy Services from C$6.00 to C$5.25 and set a "sector perform" rating on the stock in a report on Monday, November 13th.
WARNING: This article was originally posted by American Banking News and is the sole property of of American Banking News. If you are accessing this article on another publication, it was copied illegally and reposted in violation of US and international copyright & trademark laws. The correct version of this article can be viewed at https://www.americanbankingnews.com/2017/12/23/high-arctic-energy-services-inc-hwo-announces-0-02-monthly-dividend.html.
About High Arctic Energy Services
High Arctic Energy Services Inc is a Canada-based company, which focuses on providing contract drilling, completion services, equipment rental and other oilfield services to the oil and gas industry. The Company operates through providing oilfield services to customers in Canada and Papua New Guinea (PNG) segment.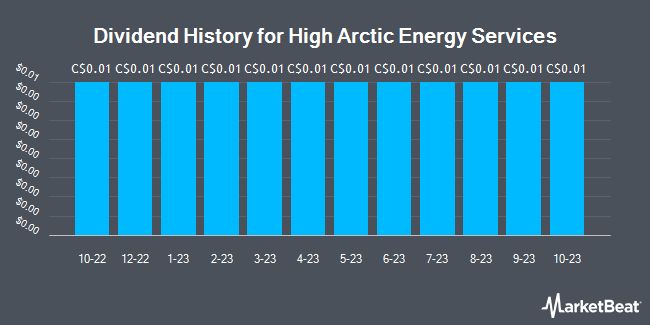 Receive News & Ratings for High Arctic Energy Services Daily - Enter your email address below to receive a concise daily summary of the latest news and analysts' ratings for High Arctic Energy Services and related companies with MarketBeat.com's FREE daily email newsletter.