Phoenix Group (PHNX) Given New GBX 664 Price Target at Barclays
Phoenix Group (LON:PHNX) had its price target reduced by analysts at Barclays from GBX 673 ($9.06) to GBX 664 ($8.94) in a report issued on Monday, December 11th. The brokerage currently has an "underweight" rating on the stock. Barclays' price objective points to a potential downside of 14.10% from the stock's current price.
PHNX has been the subject of several other reports. JPMorgan Chase & Co. reiterated an "overweight" rating and set a GBX 837 ($11.27) price objective on shares of Phoenix Group in a report on Friday, August 25th. Shore Capital reiterated a "buy" rating on shares of Phoenix Group in a report on Thursday, August 24th. Finally, HSBC increased their price objective on Phoenix Group from GBX 810 ($10.90) to GBX 820 ($11.04) and gave the stock a "hold" rating in a report on Thursday, November 23rd. One investment analyst has rated the stock with a sell rating, three have given a hold rating and five have issued a buy rating to the company. The company currently has a consensus rating of "Hold" and a consensus target price of GBX 804 ($10.82).
Shares of Phoenix Group (PHNX) traded up GBX 1.50 ($0.02) during trading hours on Monday, hitting GBX 773 ($10.40). The company had a trading volume of 287,858 shares, compared to its average volume of 617,643. Phoenix Group has a twelve month low of GBX 715.50 ($9.63) and a twelve month high of GBX 817.48 ($11.00). The stock has a market capitalization of $3,040.00 and a price-to-earnings ratio of -1,310.17.
COPYRIGHT VIOLATION NOTICE: This report was published by American Banking News and is the sole property of of American Banking News. If you are reading this report on another domain, it was copied illegally and republished in violation of U.S. and international copyright legislation. The legal version of this report can be read at https://www.americanbankingnews.com/2017/12/25/phoenix-group-phnx-given-new-gbx-664-price-target-at-barclays.html.
Phoenix Group Company Profile
Phoenix Group Holdings is a consolidator of closed life assurance funds specializing in the management and acquisition of closed life and pension funds. The Company's segment: life assurance (including its management services operations) is referred to as Phoenix Life. It has four operating life companies, which hold policyholder assets and a distribution business, SunLife.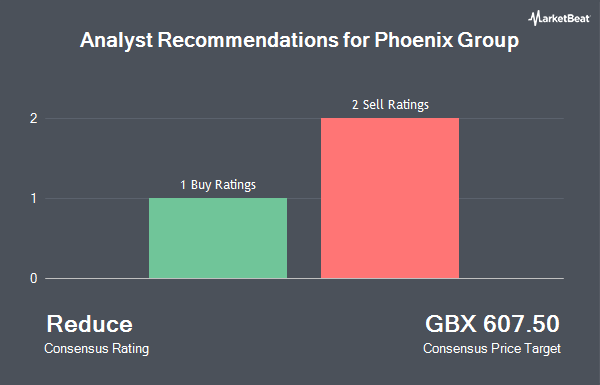 Receive News & Ratings for Phoenix Group Daily - Enter your email address below to receive a concise daily summary of the latest news and analysts' ratings for Phoenix Group and related companies with MarketBeat.com's FREE daily email newsletter.